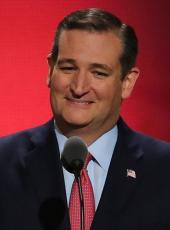 Press Release - Dana Loesch Endorses Ted Cruz for President
HOUSTON, Texas – Today, the Cruz for President campaign announced the endorsement of Dana Loesch. Loesch is an author, radio and TV host and a leading conservative voice across the country. She hosts her award-winning, nationally syndicated daily radio show, The Dana Show: The Conservative Alternative and also hosts Dana on The Blaze television network.
"Dana is a fearless conservative who is not afraid to confront the liberal media bias head on," said Cruz. "She is a passionate fighter for liberty and an important voice for conservatives. I am thrilled to have Dana on our team and work together to win the White House in 2016."
Loesch co-founded the Tea Party movement in St. Louis and speaks regularly on the subject of new media, gun control, anti-feminism, and grassroots. She was one of the original Breitbart editors selected by her late friend and mentor, Andrew Breitbart. She appears regularly on Fox News, ABC, CBS, and CNN. Loesch has continually and relentlessly fought for conservative principles, specifically our second amendment right to keep and bear arms, stopping Obama's lawless executive orders, defunding Obamacare and protecting our Constitutional liberties.
"I have said that I will pull for the most consistent conservative in the race," said Loesch. "As one of the original founders of the modern-day Tea Party movement, I watched grassroots conservatives support Ted Cruz's David and Goliath success against Dewhurst and the Republican establishment. Cruz has fought to repeal Obamacare, shrink the size of government; he has defended our gun rights, our right to privacy, our sovereignty and borders. I personally feel that Ted Cruz is the best choice to reverse America's road to ruin and am proud to support him in the 2016 Republican primary."
Dana is listed in the top 40 of Talkers Magazine's top 100 "heavy hitters" and was named Missouri's #1 Radio Personality in 2014. A former award-winning newspaper columnist and notable blogger since 2001, Dana was ranked as one of the top 16 most powerful mothers online by Nielsen and one of the top 30 Under 30 according to the St. Louis Business Journal.
Ted Cruz, Press Release - Dana Loesch Endorses Ted Cruz for President Online by Gerhard Peters and John T. Woolley, The American Presidency Project https://www.presidency.ucsb.edu/node/315271