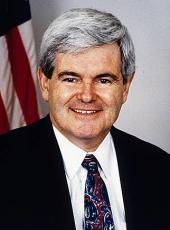 Press Release - In Dallas, Newt Pledges to 'Dismantle' President Obama's Agenda
Originally posted on Star-Telegram.com
By Anna Tinsley
Newt spoke to a large crowd at a Tea Party event in Dallas on Thursday, where he pledged to dismantle the majority of President Obama's immediately upon entering office.
DALLAS - If elected president, former House Speaker Newt Gingrich said he plans to have 50 to 200 executive orders ready to sign into law shortly after the swearing-in ceremony on Inauguration Day 2013.

While he's not yet sure what all those orders will be, he said that by the Obama family arrives at their destination, "we will have dismantled most of (Democrat Barack Obama's) government."

Gingrich spoke to an overflow crowd of more than 200 gathered Thursday at a Dallas Tea Party event at the Embassy Suites Hotel in Dallas.

Gingrich, joined at the event by friend U.S. Rep. Michael Burgess, R-Lewisville, was praised by those who showed up to hear him Thursday for "staying above the fray," and "staying the course on attacking Obama, rather than fellow Republicans."

Speaking for more than 1 1/2 hours, Gingrich touched on topics ranging from the national debt and the potential for a balanced budget to repealing the federal income tax and securing the U.S. border by 2014.

Among his goals if elected would be to shrink the department of education, eliminate the bulk of federal regulations regarding education and while he said he can't sign an executive order protecting the lives of the unborn, he said he would "certainly recommend to Congress that they look at that, and look at the consequences of that."

Eric Hall of Allen, a senior at the University of Texas in Dallas, was among those who showed up Thursday to learn more about Gingrich and his presidential bid.

"I was a kid in the 90s and I grew up with his name in my head," said Hall, 33, who leads the Young Conservatives of Texas at UTD. "He tells it like it is. He doesn't sugar coat it."

"He seems to be one of the three real conservatives running."
Newt Gingrich, Press Release - In Dallas, Newt Pledges to 'Dismantle' President Obama's Agenda Online by Gerhard Peters and John T. Woolley, The American Presidency Project https://www.presidency.ucsb.edu/node/298620