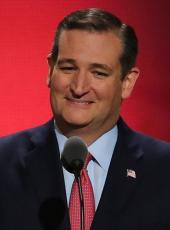 Press Release - Cruz Introduces "Five for Freedom" Spending Plan to Cut $500 Billion
Proposal Eliminates Four Departments, the IRS, and 25 Programs
HOUSTON, Texas – Presidential candidate Ted Cruz released a proposal to reduce federal spending by $500 billion dollars and eliminate four executive branch departments, the Internal Revenue Service, and 25 different programs. Dubbed "Five for Freedom", the plan would abolish the Departments of Education, Commerce, Energy, and Housing and Urban Development, as well as the IRS, during his administration.
Click here for full details of the plan.
"We should shrink the size and power of the federal government by every and any means possible," said Cruz. "What does that mean? That means eliminating unnecessary or unconstitutional agencies. No responsible parent would leave their children with hundreds of thousands of dollars in debt; we should not allow the government to do this to our children and grandchildren either. It's time for Washington to tighten its belt – no more reckless spending or handing out favors to K-Street lobbyists while hard-working Americans are left to foot the bill."
The plan targets several agencies, bureaus, commissions, and other programs that are constitutionally illegitimate and harmful to American households and businesses. Cruz has proposed to create a group that will assess federal spending levels and evaluate areas of waste and fraud, as well as pass a Balanced Budget Amendment to the Constitution and the REINS Act, legislation requiring Congress to approve of any regulation or major rule that will have an economic impact of $100 million. Cruz also proposes to freeze executive branch hiring.
This specific proposal only deals with federal discretionary spending, though Cruz will release additional plans to address entitlement spending in the coming months.
"It's time for bold change," said Cruz. "Change that stops Washington from squandering Americans' money; that scraps the current tax code and replaces it with a single, fair, low rate for all; that reins in Washington's costly regulations; that honors the people's work with the dignity it deserves; and that finally gets the government out of our pockets and off our backs."
Ted Cruz, Press Release - Cruz Introduces "Five for Freedom" Spending Plan to Cut $500 Billion Online by Gerhard Peters and John T. Woolley, The American Presidency Project https://www.presidency.ucsb.edu/node/315143