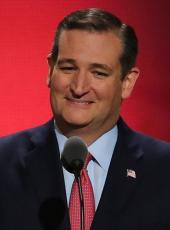 Press Release - Cruz for President Welcomes South Carolina Leadership Team
Names State Sen. Lee Bright, State Rep. Bill Chumley, and Sheriff Ray Nash South Carolina State Co-Chairmen
HOUSTON, Texas — U.S. Sen. Ted Cruz, R-Texas, today announced his South Carolina Leadership Team, naming State Sen. Lee Bright, State Rep. Bill Chumley, and Sheriff Ray Nash South Carolina State Co-Chairmen, in addition to welcoming 40 other conservative activists and influencers as members of the team.
Cruz for President's South Carolina State Director, LaDonna Ryggs, sent the following letter to the team welcoming them to the campaign. The text of the letter is below:
To the Cruz South Carolina Leadership Team,
It is my pleasure and honor to welcome such impressive and committed grassroots leaders to our team. With your help, Ted Cruz is going to perform very well in the Palmetto State primary, earn the Republican nomination, and become the next President of the United States.
Cruz's message continues to resonate with the people of South Carolina. He won five straw polls conducted in Greenville, Spartanburg, Anderson, Dorchester, and Aiken counties , and received "the most enthusiastic responses from the crowd" at the State Convention this weekend, according to CNN.
As the First in the South primary, South Carolina is a pivotal place for a strong full-spectrum conservative like Senator Cruz. Our campaign relies on bringing together a broad coalition of Republican voters, many of whom feel abandoned by party leaders in Washington. Cruz will be the only candidate in the race that can unite traditional GOP voters, tea party conservatives, liberty supporters, and right-leaning independents. He has demonstrated broad appeal from the social, fiscal and national security branches of our coalition by consistently fighting for the conservative values we share.
Make no mistake: the attacks are coming. The political elites in Washington are desperately afraid of a candidate that upsets the status quo, and they will do everything in their power to distort Senator Cruz's record to stop him. That's why we have to be vigilant in aggressively promoting his message, growing his base of support, and showing voters that he has a proven record of fighting for us on the issues we care about most. From Obamacare, to gun rights, to amnesty, and traditional marriage, only Ted Cruz has stood up and led every time.
That is why we've built a team in South Carolina of courageous conservative champions. Our diverse coalition of leaders reflects a broad base of support from across the Palmetto State, including Republican Party officers and elected officials, those in evangelical and homeschool circles, grassroots organizers, College Republicans, a leader of the Republican Liberty Caucus, as well as enthusiastic business owners and informed policy experts.
Many of our leaders were actively involved with the last winner of South Carolina's First in the South Primary, Newt Gingrich. Several members of our team helped successful campaigns in previous cycles like Rep. Ron Paul, Rep. Michelle Bachmann, Governor Mike Huckabee, Senator Rick Santorum and Governor Mitt Romney. This diversity of backgrounds is an indication of our strength and full-spectrum support in the Palmetto State.
We have a long road ahead of us, but I am certain that our team will be successful if we clearly understand Senator Cruz's vision. As he noted in his announcement-day speech:
From the dawn of this country, at every stage America has enjoyed God's providential blessing. Over and over again, when we faced impossible odds the American people rose to the challenge...The power of the American people when we rise up and stand for liberty knows no bounds.
I want to thank State Senator Lee Bright, State Representative Bill Chumley, and Sheriff Ray Nash (Ret.) for co-chairing this team and bringing together this remarkable group of conservative grassroots leaders.
I am ready to meet this challenge with you as we work to make Ted Cruz the next President of the United States.
Sincerely,
LaDonna Ryggs

South Carolina State Director

Cruz for President
Cruz for President South Carolina Leadership Team
State Senator Lee Bright, Co-Chair, Spartanburg

State Representative Bill Chumley, Co-Chair, Woodruff

Sheriff Ray Nash (Ret.), Co-Chair, Summerville
Paul Anderko, Rock Hill

Javan Browder, Greenville

Debbie and Stephen Brown, Greenville

Renee Cannon, North Charleston

Sandy Chiong, Lugoff

Lt. Col. Bill Connor, Afghanistan War Veteran, Orangeburg

Scott Cooper, Edgefield

Cheryl and Allen Cuthrell, Piedmont

Patsy and Vic Dabney, Camden

Kim Demer, Camden

Nse Ekpo, Irmo

Dr. Andrew Geer, Charleston

Reverend Mike Gonzalez, Columbia

Conway G. Ivy, Beaufort

Monica Kidd, Mt. Pleasant

Elizabeth and Jay Kilmartin, Columbia

K.C. and Cherie Lombard, Johns Island

Steven Long, Boiling Springs

Dr. Susan E. Moore, Charleston

Lou and Patrick Nolan, Columbia

Mark Palmer, Rock Hill

Mary L. Pearson, Summerville

Alan Ray, Chapin

Robert Ryggs, Greer

Jarred Spencer, Cowpens

Janet Spencer, North Myrtle Beach

Teri Sullivan, Aiken

DeeDee and Bauer Vaughters, Aiken

Lisa and Chip Watson, Spartanburg

Leah Whatley, Charleston

Michelle Wiles, Duncan/Pickens

Dr. Glen Robinson, Greenville
Ted Cruz, Press Release - Cruz for President Welcomes South Carolina Leadership Team Online by Gerhard Peters and John T. Woolley, The American Presidency Project https://www.presidency.ucsb.edu/node/314722