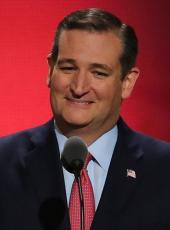 Press Release - Cruz for President Runs "Blessing" Ad During Previews of Blockbuster Film "War Room"
Runs Ad in Iowa, New Hampshire, South Carolina Movie Theaters
HOUSTON, Texas – Cruz for President maintains its unique, break-the-rules campaign style in its most recent ad buy, running movie theater advertisements during previews of the blockbuster film, War Room, in early primary states. The ad trailer features the campaign's "Blessing" ad, which earlier ran in early primary states and nationally on Fox News Channel over the 2015 Easter Weekend.
The 30-second ad includes several moments from Cruz's announcement speech at Liberty University, and conveys the story of how the transformative love of Jesus Christ reunited a son with his father. It will run in theaters through the end of the month.
During its first ten days in the box office, War Room earned $39.2 million, more than the last two nationwide Christian film releases combined over the same time period. Among numerous positive reviews, the film received a four and a half out of five rating from the Focus on the Family entertainment guide, Plugged In.
Cruz campaign supporters and volunteers in Iowa, New Hampshire, and South Carolina gathered during the film's opening weekend to campaign for Cruz and watch the ad and movie in theaters.
The full ad currently running in theaters may be viewed here:
"BLESSING" AD TRANSCRIPT
"Were it not for the transformative love of Jesus Christ, I would have been raised by a single mom without my father in the household."
"God's blessing has been on America from the very beginning of this nation."
"Over and over again, when we faced impossible odds, the American people rose to the challenge."
"This is our fight, and that is why I'm running for President of the United States."
"I'm Ted Cruz, and I approve this message."
Ted Cruz, Press Release - Cruz for President Runs "Blessing" Ad During Previews of Blockbuster Film "War Room" Online by Gerhard Peters and John T. Woolley, The American Presidency Project https://www.presidency.ucsb.edu/node/315341