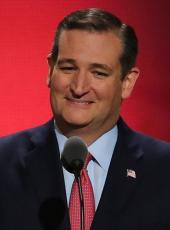 Press Release - Cruz for President Announces Expanded Iowa Statewide Leadership Team
HOUSTON, Texas – Today, the Cruz for President Campaign released an updated leadership team that reflects the consistent grassroots growth and strength that has been a hallmark of their efforts in Iowa and across the nation.
The team, including 130 Iowa pastors, 12 state legislators, and 260 county chairs and co-chairs, encompasses a broad cross-section of the conservative movement in the state.
"This campaign is about standing for principle and coalescing conservatives to work together to fight for our shared values," said Cruz. "The grassroots army that has come together here in Iowa is being replicated all across the country. The members of this team represent not just the thousands of Iowans who have come together to support our campaign, but also the tens of thousands of people who are engaging to help restore the promise of America."
Additionally the campaign announced 1,573 caucus captains across the state. The announcement marks the final milestone in Cruz's impressive Iowa organization. The campaign is putting its massive Iowa organization to the test this week by mobilizing the grassroots and turning them out to caucus for Cruz.
As of last week, over 12,000 volunteers have signed on and are now working to identify and turn out caucus goers for Cruz. Volunteers, on average, are making up to 20,000 phone calls and knocking on 2,000 doors every day. During the month of January, 836 people will have stayed at Camp Cruz, the former college dorms that are filled beyond capacity with volunteers from all over the country, some tripling up in rooms using air mattresses.
The Cruz for President Iowa Leadership Team:
Reverend Timothy Fitzner, Adair County — 99 Iowa Pastors

Robin Schaecer, Adair County — County Chair

Ed Carr, Adams County — County Chair

Pastor Matthew Castle, Allamakee County — 99 Iowa Pastors

Bob Hager, Allamakee County — County Chair

Dennis & Mary Keatley, Allamakee County — County Chairs

Revelyn Lonning, Allamakee County — County Chair

Robin Oden, Allamakee County — County Chair

Keith Schroeder, Allamakee County — County Chair

Pastor Duane Smith, Allamakee County — County Chair, 99 Iowa Pastors

Dr. Gene Bray, Appanoose County — 99 Iowa Pastors

Greg Fenton, Appanoose County — County Chair

Rep. Larry Sheets, Appanoose County — Statewide Leadership Team

Mark Waits, Appanoose County — County Chair

Pastor Sam Jacobs, Audubon County — 99 Iowa Pastors

Ranae Schlater, Audubon County — County Chair

Bethany Gates, Benton County — County Chair

Janice Kendall, Benton County — County Chair

Former Iowa Republican State Central Committee Member Loras Schulte, Benton County — Statewide Leadership Team

Sue West, Benton County — County Chair

Pastor Rob & Jamie Ely, Black Hawk County — 99 Iowa Pastors

Carol Hanson, Black Hawk County — County Chair

Luke Offner, Black Hawk County — County Chair

State Rep. Sandy Salmon, Black Hawk County — Statewide Leadership Team

Carole Schoon, Black Hawk County — County Chair

Tim Tierney, Black Hawk County — County Chair

State Sen. Jerry Behn, Boone County — Statewide Leadership Team

Caleb Burke, Boone County — County Chair

Aaron Cronk, Boone County — County Chair

Paul Dayton, Boone County — County Chair

Benjamin Dorin, Boone County — County Chair

Pastor Donald Howard, Boone County — 99 Iowa Pastors

Rose Noland, Boone County — County Chair

Mary-Anna Denton, Bremer County — County Chair

Beth Augustine, Buchanan County — County Chair

Pastor Richard Wearmouth, Buchanan County — 99 Iowa Pastors

Kay Quirk, Buena Vista County — County Chair

Pastor Tim Ried, Buena Vista County — 99 Iowa Pastors

Jeanette Davis, Butler County — County Chair

Pastor Michael Davis, Butler County — 99 Iowa Pastors

Pastor Val Swinton, Butler County — 99 Iowa Pastors

Pastor Don Pobanz, Calhoun County — 99 Iowa Pastors

Christy Ramthum, Calhoun County — County Chair

Pastor Jay Chapman, Carroll County — 99 Iowa Pastors

Tom Schmitz, Carroll County — County Chair

Emily Rouse, Cass County — County Chair

Allen Kroeger, Cedar County — County Chair

Pastor Jonathan Smith, Cedar County — 99 Iowa Pastors

Mark Bausch, Cerro Gordo County — County Chair

Kathryn Bell, Cerro Gordo County — County Chair

Pastor Jeffrey Dahlin, Cerro Gordo County — 99 Iowa Pastors

Elder David & Vicky Klang, Cerro Gordo County — County Chair

Pastor James Meyer, Cerro Gordo County — 99 Iowa Pastors

Bill Salier, Cerro Gordo County — Statewide Leadership Team

Cate Schmeisser, Cerro Gordo County — County Chair

Dan Ohlendorf, Cherokee County — County Chair

Pastor Benjamin Scholl, Chickasaw County — County Chair, 99 Iowa Pastors

Pastor Mary Burkheimer, Clarke County — County Chair, 99 Iowa Pastors

Clay County Sheriff Randy Krukow, Clay County — County Chair

Pastor Bradley Wallace, Clay County — 99 Iowa Pastors

Pastor Shane Anderson, Clayton County — 99 Iowa Pastors

Chelsy Askren, Clayton County — County Chair

Joyce Goedken, Clayton County — County Chair

Barb Pape, Clayton County — County Chair

Pastor Jon Booth, Clinton County — 99 Iowa Pastors

Chad & Sandy Huizenga, Clinton County — County Chairs

Sarah Smith, Clinton County — County Chair

Pastor Keith Williams ll, Clinton County — 99 Iowa Pastors

Kendal Esteves, Crawford County — County Chair

Harrison Hoffmeier, Crawford County — County Chair

State Rep. Steve Holt, Crawford County — Statewide Leadership Team

Reverend David Loeschen, Crawford County — County Chair, 99 Iowa Pastors

State Senator Jason Schultz, Crawford County — Statewide Leadership Team

Sandra Waldemar, Crawford County — County Chair

Pastor Tom Allen, Dallas County — 99 Iowa Pastors

Leslie Beck, Dallas County — County Chair

Kevin Branstetter, Dallas County — County Chair

State Sen. Jake Chapman, Dallas County — Statewide Leadership Team

Chris Chase, Dallas County — County Chair

Dale Crawford, Dallas County — County Chair

Pastor Mark DeFord, Dallas County — 99 Iowa Pastors

Rob & Judy Goodman, Dallas County — County Chairs

Lindsay Haakma, Dallas County — County Chair

Denise Hays, Dallas County — County Chair

Pastor Spencer Keroff, Dallas County — 99 Iowa Pastors

Joel & Kelsey Kurtinitis, Dallas County — Statewide Leadership Team

Pastor Jeff & Cathy Mullen, Dallas County — County Chairs, 99 Iowa Pastors

Andrew Schoonhoven, Dallas County — County Chair

Pastor Chris Tjapkes, Dallas County — 99 Iowa Pastors

Keith Trullinger, Dallas County — County Chair

State Rep. Ralph Watts, Dallas County — Statewide Leadership Team

Pastor Gordon Hawkins, Davis County — 99 Iowa Pastors

Lynn Mietzner, Davis County — County Chair

Jackie Hatfield, Decatur County — County Chair

Pastor David & Marlys McPherson, Decatur County — 99 Iowa Pastors

Ron & Shellie Bockenstedt, Delaware County — County Chairs

Pastor Peter Buschmann, Delaware County — 99 Iowa Pastors

Pastor Bradley Cranston, Des Moines County — Statewide Leadership Team, 99 Iowa Pastors

Brad Cranston, Jr., Des Moines County — County Chair

Matthew Haley, Des Moines County — County Chair

Rose Kendall, Des Moines County — County Chair

Mike Roundtree, Des Moines County — County Chair

Gary Scherer, Des Moines County — County Chair

Elaine Shipley, Des Moines County — County Chair

Jim Sonneville, Des Moines County — County Chair

Reverend Charles & Dianne Stevens, Des Moines County — County Chairs, 99 Iowa Pastors

Alan Detlefsen, Dickinson County — County Chair

Scott Ernst, Dubuque County — County Chair

Robert Hachmann, Dubuque County — County Chair

Pastor Louis Mahe, Dubuque County — County Chair, 99 Iowa Pastors

Pastor Edward Mast, Dubuque County — Statewide Leadership Team, 99 Iowa Pastors

Patrick Vorwald, Dubuque County — County Chair

Paul Kurt, Dubuque County — County Chair

Pastor Steven Britton, Emmet County — 99 Iowa Pastors

LaRae Buhr, Fayette County — County Chair

Pastor Roland Waterman, Fayette County — 99 Iowa Pastors

Pastor Leslie White, Fayette County — 99 Iowa Pastors

Naomi Bienfang, Floyd County — County Chair

Olsen Kent, Floyd County — County Chair

Pastor Adam Whitty, Floyd County — 99 Iowa Pastors

Austin Elling, Franklin County — County Chairs

Sharon Elling, Franklin County — County Chairs

Gary McVicker, Franklin County — County Chair

Benjamin & Annette Ciaccio, Fremont County — County Chairs

Jo Stessman, Fremont County — County Chair

John & Kristi Berg, Greene County — County Chairs

Phyllis Gannon, Greene County — County Chair

Lee & Holly Voss, Grundy County — County Chairs

Reverend Scott Hill, Guthrie County — 99 Iowa Pastors

Rita King, Guthrie County — County Chair

Karen Lonsdale, Guthrie County — County Chair

Steven Lonsdale, Guthrie County — County Chair

Denny & Mary Merritt, Guthrie County — County Chairs

Theo Boman, Hamilton County — County Chair

Paul Jensen, Hamilton County — County Chair

Pastor Patrick Wiedemeier, Hamilton County — 99 Iowa Pastors

Pastor Gregory Baum, Hancock County — 99 Iowa Pastors

State Rep. Terry Baxter, Hancock County — Statewide Leadership Team

Reverend Robert Dodge, Hancock County — 99 Iowa Pastors

Sen. Dennis Guth, Hancock County — Statewide Leadership Team

Pastor Stan Johnson, Hancock County — 99 Iowa Pastors

Marvin Johnson, Hancock County — County Chair

John Wacker, Hancock County — Statewide Leadership Team

Curt Groen, Hardin County — County Chair

Pastor Jason Kinney, Hardin County — 99 Iowa Pastors

George Nelson, Harrison County — County Chair

Jason Conner, Henry County — County Chair

Reverend Steve Epley, Henry County — 99 Iowa Pastors

Dean Hamilton, Henry County — County Chair

Philip Palmer, Henry County — County Chair

Pastor Rik Parcell, Henry County — 99 Iowa Pastors

Samuel Kramer, Howard County — County Chair

Michael McKee, Humboldt County — County Chair

Michelle Ober, Humboldt County — County Chair

Tom & Kristi German, Ida County — County Chairs

Mike Habermann, Iowa County — County Chair

Jim Budde, Jackson County — County Chair

Pastor Steven Hantelmann, Jackson County — 99 Iowa Pastors

Pastor Steve Bundy, Jasper County — 99 Iowa Pastors

Micah Cope, Jasper County — County Chair

Pastor John Desaulniers Jr., Jasper County — Statewide Leadership Team, 99 Iowa Pastors

Clifford Downing, Jasper County — County Chair

Dustin Engle, Jasper County — County Chair

Carol Jones, Jasper County — County Chair

Anita Kacmarynski, Jasper County — County Chair

Adam Vandall, Jasper County — County Chair

Pastor Kevin Dice, Jefferson County — 99 Iowa Pastors

James Elliot, Jefferson County — County Chair

Pastor Mike Barr, Johnson County — 99 Iowa Pastors

Sean Beard, Johnson County — County Chair

Mark Decker, Johnson County — County Chair

Larry & Sue Ellingson, Johnson County — County Chairs

Randy Harker, Johnson County — County Chair

Michael Keefer, Johnson County — County Chair

Caleb Reynolds, Johnson County — County Chair

Jeffrey Sedlacek, Johnson County — County Chair

Matt Wells, Johnson County — County Chair

Pastor Lloyd Eaken, Jones County — 99 Iowa Pastors

Beth Kinley, Jones County — County Chair

Linda Stickle, Jones County — Statewide Leadership Team

Roseann Stivers, Jones County — County Chair

Pastor Rose Kessler, Keokuk County — County Chair, 99 Iowa Pastors

Jim Larson, Kossuth County — County Chair

Lyle Prunty, Kossuth County — County Chair

Pastor Don Culp, Lee County — 99 Iowa Pastors

Lorie Seager, Lee County — County Chair

Pastor Cecil Ballard, Linn County — 99 Iowa Pastors

Amanda Broughton, Linn County — County Chair

Pastor Eric Cleveland, Linn County — 99 Iowa Pastors

Pastor Rick David, Linn County — 99 Iowa Pastors

Nate Day, Linn County — County Chair

Pastor William Graham, Linn County — 99 Iowa Pastors

Derrick Grant, Linn County — County Chair

Dick Green, Linn County — County Chair

Mark Groth, Linn County — County Chair

Stephen Hoffman, Linn County — County Chair

James Knox, Linn County — Statewide Leadership Team

Pastor Kenneth Koske, Linn County — 99 Iowa Pastors

Pastor Ronald Morrow, Linn County — 99 Iowa Pastors

Matt Thiessen, Linn County — County Chair

Pastor Darran Whiting, Linn County — Statewide Leadership Team, 99 Iowa Pastors

Charles Roman, Linn County — County Chair

Pastor Michael McAfee, Louisa County — 99 Iowa Pastors

Reginald McMeins, Jr., Louisa County — County Chair

Josh Mohror, Louisa County — County Chair

Pastor Todd Oprzedek, Louisa County — 99 Iowa Pastors

Larry Hirschy, Lucas County — County Chair

Jason Unger, Lucas County — County Chair

Pastor Joshua Verwers, Lucas County — 99 Iowa Pastors

Randy Freerks, Lyon County — County Chair

Pastor Jeff Poppinga, Lyon County — 99 Iowa Pastors

Landon & Sarah Keim, Madison County — County Chairs

Madison County Attorney and former Secretary of State Matt Schultz, Madison County — Iowa Statewide Campaign Co-Chair, Statewide Leadership Team

Pastor Rex Stancel, Madison County — 99 Iowa Pastors

Sandra Plate, Mahaska County — County Chair

Darrell & Teri Rogers, Mahaska County — County Chairs

Pat Scanlon, Mahaska County — County Chair

Pastor Don Thurman, Mahaska County — 99 Iowa Pastors

Pastor Bill Tvedt, Mahaska County — 99 Iowa Pastors

Katie Eubanks, Marion County — County Chair

Annette Hatch, Marion County — County Chair

State Rep. Greg Heartsill, Marion County — Statewide Leadership Team

Pastor Greg Neer, Marion County — 99 Iowa Pastors

Pastor A.J. Potter, Marion County — County Chair, 99 Iowa Pastors

Pastor Andy Tuttle, Marion County — County Chair

Pastor James Tyree, Marion County — County Chair, 99 Iowa Pastors

Pastor Ed Hannahs, Marshall County — 99 Iowa Pastors

Jarret Heil, Marshall County — Statewide Leadership Team

Rhonda Paine, Marshall County — County Chair

Jennifer Ream, Marshall County — County Chair

Greg Witzenberg, Marshall County — County Chair

Erin Woods, Mills County — County Chair

Vincent Loeckle, Mitchell County — County Chair

Dick & Dorothy Schlitter, Monona County — Statewide Leadership Team, County Chairs

Pastor Matt Sperling, Monona County — 99 Iowa Pastors

James "Ted" Church, Monroe County — County Chair

Pastor Jeffrey Comstock, Monroe County — 99 Iowa Pastors

Chris Downey, Monroe County — County Chair

Robert Van Sickel, Monroe County — County Chair

Rod Goodemote, Montgomery County — County Chair

Karan Johnson, Montgomery County — County Chair

Pastor David MacDonald, Montgomery County — 99 Iowa Pastors

Pamela Freeland, Muscatine County — County Chair

Carl Kleppe Jr., Muscatine County — County Chair

Pastor Dan Robbs, Muscatine County — 99 Iowa Pastors

Pastor Samuel Seward, Muscatine County — 99 Iowa Pastors

Kenneth Miller, O'Brien County — County Chair

Pastor Marcus Moffitt, O'Brien County — 99 Iowa Pastors

Zach Wilson, Osceola County — County Chair

Pastor John Heth, Page County — 99 Iowa Pastors

Richard Perala, Page County — County Chair

Ron Richardson, Page County — County Chair

Terry Klooster, Palo Alto County — County Chair

Louis Schneider, Palo Alto County — County Chair

State Sen. Bill & Angie Anderson, Plymouth County — Statewide Leadership Team

Bert Stellingwerf, Plymouth County — County Chair

Robert Fonder, Pocahontas County — County Chair

Weston Van Donge, Pocahontas County — County Chair

Pastor Carson Aldridge, Polk County — 99 Iowa Pastors

Pastor Wayne Almlie, Polk County — 99 Iowa Pastors

Nancy Anderson, Polk County — County Chair

Pastor Craig Avery, Polk County — 99 Iowa Pastors

Steve Boesen, Polk County — County Chair

Pastor Seth and Pastor Sara Brown, Polk County — 99 Iowa Pastors

Pastor David Bush, Polk County — County Chair, 99 Iowa Pastors

Pastor Tom Carlson, Polk County — 99 Iowa Pastors

Pastor David Clinkscales, Polk County — 99 Iowa Pastors

Robert Cramer, Polk County — Statewide Leadership Team

Steve & Amy Deace, Polk County — Statewide Leadership Team

Pastor Bob Deever, Polk County — Statewide Leadership Team, 99 Iowa Pastors

Pastor Doug Deford, Polk County — 99 Iowa Pastors

Pastor Mike Demastus, Polk County — Statewide Leadership Team, 99 Iowa Pastors

Jacob Dicks, Polk County — County Chair

Tina Dicks, Polk County — County Chair

Karen Douma, Polk County — Statewide Leadership Team

Pastor Jeff Ferguson, Polk County — 99 Iowa Pastors

Joe Gleason, Polk County — County Chair

Dominic Godinez, Polk County — County Chair

Pastor Jeff Hill, Polk County — 99 Iowa Pastors

Adam Horning, Polk County — County Chair

Pastor Judy Hundley, Polk County — 99 Iowa Pastors

Chuck Hurley, Polk County — Statewide Leadership Team

Donald Jennings, Polk County — County Chair

Peter & Becky Johnston, Polk County — County Chairs

Michael Johnston, Polk County — County Chair

Pastor Ryan Jorgenson, Polk County — 99 Iowa Pastors

Pastor Dylan Knudsen, Polk County — 99 Iowa Pastors

Pastor Mario Lara, Polk County — 99 Iowa Pastors

Pastor Gregory & Pam Malone, Polk County — County Chairs, 99 Iowa Pastors

Pastor Dan McCoy, Polk County — 99 Iowa Pastors

Pastor Marnie Miller, Polk County — 99 Iowa Pastors

Preacher Tim Newman, Polk County — 99 Iowa Pastors

Vance Nordaker, Polk County — County Chair

Richard & Betty Odgaard, Polk County — Statewide Leadership Team, Religious Liberty Ambassadors

Pastor Gary Pilcher, Polk County — 99 Iowa Pastors

Bianca Richards, Polk County — County Chair

Richard Rogers, Polk County — Statewide Leadership Team

Pastor Steve Rowland, Polk County — 99 Iowa Pastors

Pastor James & Deanna Snow, Polk County — 99 Iowa Pastors

Adam Steen, Polk County — Statewide Leadership Team

Cecil Stinemetz, Polk County — County Chair

Pastor Kevin Subra, Polk County — 99 Iowa Pastors

Bob Vander Plaats, Polk County — Statewide Leadership Team, National Co-Chair

Rev. Shane Wilson, Polk County — 99 Iowa Pastors

Dolores Brandt, Pottawattamie County — County Chair

Sarah Haldeman, Pottawattamie County — County Chair

Bill Hartzell, Pottawattamie County — County Chair

Pastor Garth Hilton, Pottawattamie County — 99 Iowa Pastors

Pastor Brian Tatman, Pottawattamie County — 99 Iowa Pastors

Pastor Leo Young, Pottawattamie County — 99 Iowa Pastors

Brenda Lyddon, Poweshiek County — County Chair

Mary Jane Narigon, Ringgold County — County Chair

Pastor Jim Hudzinski, Sac County — 99 Iowa Pastors

Mark Jansma, Sac County — County Chair

Congressman Steve King, Sac County — Statewide Leadership Team, National Co-Chair

Pastor Gary Buske Jr., Scott County — County Chair, 99 Iowa Pastors

Pastor Mark Cannon, Scott County — 99 Iowa Pastors

Pastor Joshua Davis, Scott County — 99 Iowa Pastors

Shawn Dietz, Scott County — Statewide Leadership Team

Rose Jaeger, Scott County — County Chair

Pastor Joel Kobernat, Scott County — 99 Iowa Pastors

Jason O'Day, Scott County — County Chair

Professor Gregory Tapis, Scott County — Statewide Leadership Team

Steve Weller, Scott County — County Chair

Michele Jones, Shelby County — County Chair

Rob Driesen, Sioux County — County Chair

State Sen. Randy Feenstra, Sioux County — Statewide Leadership Team

Pastor Brian Janssen, Sioux County — 99 Iowa Pastors

Councilman Mick Snieder, Sioux County — Statewide Leadership Team

Levi Vander Molen, Sioux County — County Chair

Skyler Wheeler, Sioux County — County Chair

Bryan Bradley, Story County — County Chair

Allan Frandson, Story County — County Chair

David & Yvonne Hickman, Story County — County Chairs

Dale & Charlene Jarboe, Story County — County Chairs

Dr. Tim Lubinus, Story County — Statewide Leadership Team, 99 Iowa Pastors

Diane Nichols, Story County — County Chair

Chad Steenhoek, Story County — Statewide Leadership Team

Linda Fisk, Tama County — County Chair

Pastor Daniel Hartwig, Tama County — 99 Iowa Pastors

Janie & Henry Lemke, Taylor County — County Chairs

Terry Groves, Union County — County Chair

Scott McLain, Union County — County Chair

Pastor Phil Campbell, Van Buren County — 99 Iowa Pastors

Sherri Hamann, Van Buren County — County Chair

Pastor Travis Decker, Wapello County — County Chair, 99 Iowa Pastors

Rod Stevens, Wapello County — County Chair

Deb Anderson, Warren County — County Chair

Josh Byers, Warren County — County Chair

Gary Driscoll, Warren County — County Chair

Matthew Gibson, Warren County — County Chair

Dean Levang, Warren County — County Chair

Steven McCoy, Warren County — County Chair

Mark Moberg, Warren County — County Chair

Pastor Jonathan Ribble, Warren County — 99 Iowa Pastors

Dave Slick, Warren County — County Chair

Pastor Randy Bingham, Washington County — 99 Iowa Pastors

Pastor Larry Black, Washington County — 99 Iowa Pastors

Marlin & Becky Bontrager, Washington County — Statewide Leadership Team

Pastor Joseph Brown, Washington County — County Chair, 99 Iowa Pastors Founder and Chairman

Pastor Maurie Campbell, Washington County — 99 Iowa Pastors

Evangelist Caleb Garraway, Washington County — 99 Iowa Pastors

Pastor Michael Griswold, Washington County — 99 Iowa Pastors

David Harder, Washington County — County Chair

Tim Harder, Washington County — County Chair

John Woodward, Washington County — County Chair

Pastor Ron Barker, Wayne County — 99 Iowa Pastors

Ann Garber, Wayne County — County Chair

Pastor Micaiah Stanley, Wayne County — 99 Iowa Pastors

Barbara Bodling, Webster County — County Chair

Kirk Kelley, Webster County — County Chair

Dr. Jim Seward , Webster County — County Chair

Pastor Marvin Smith III, Webster County — 99 Iowa Pastors

Betty Davids, Winnebago County — County Chair

Pastor Douglas Farrell, Winnebago County — 99 Iowa Pastors

Paul and Carolyn Rael, Winneshiek County — County Chairs

Jim Abshier, Woodbury County — County Chair

Mark Anderson, Woodbury County — County Chair

Tyler Brock, Woodbury County — County Chair

Maureen Clemon, Woodbury County — County Chair

Jason Hamann, Woodbury County — Statewide Leadership Team

Pastor Steve Jewett, Woodbury County — 99 Iowa Pastors

Christina Lang, Woodbury County — County Chair

Margaret "Peg" Roush, Woodbury County — County Chair

Darla Jean Williams, Woodbury County — County Chair

Diane Vanhorn, Worth County — County Chair

Dan Watkins, Wright County — County Chair
Ted Cruz, Press Release - Cruz for President Announces Expanded Iowa Statewide Leadership Team Online by Gerhard Peters and John T. Woolley, The American Presidency Project https://www.presidency.ucsb.edu/node/315133