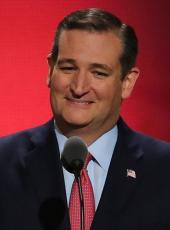 Press Release - Cruz Campaign Continues to Demonstrate Commitment to Faith and Religious Liberty
HOUSTON, Texas – Presidential Candidate Ted Cruz today announced that he is putting in place the talent and organizational structure to further energize the overwhelming support the campaign is receiving from Americans of faith. Reverend Rafael Cruz, father of Ted, has been crisscrossing the country talking to faith leaders about his son's candidacy, signing up pastors, and spreading the message of the campaign.
Demonstrating his commitment to people of faith, Cruz began his Presidential Campaign by announcing at Liberty University, the world's largest Christian university. In August, Cruz hosted a Religious Liberty Rally in Iowa drawing in over 2,500 attendees – the largest Iowa campaign event in the 2016 cycle. In addition, Ted Cruz led a call with thousands of pastors all over the country to discuss his run for the White House. He has personally met with numerous victims of religious persecution by their government.
Cruz named two senior staff members at the national level to lead faith outreach: E.C. Sykes as Executive Director of the Faith and Religious Liberties Coalition, and Lindy M. "Buddy" Pilgrim as National Director of the Faith and Religious Liberties Coalition. He has also named Sarah Erdos as Director of Faith Grassroots Outreach.
"Now more than ever, we must stand up for our convictions, stand up for our beliefs, and stand up for God. At this time of great strife in our country, it is crucial for this nation's leaders to look to their faith as their guide," Cruz said. "Our campaign believes that people of faith voting their values can change America for the better overnight. That is why we are dedicating the time and resources to reach people of faith and let them know that they have a candidate who will fight for them."
E.C. Sykes moves into his role as a fresh face in the political arena, joining the campaign from a distinguished career in the technology sector as Group President of a Fortune 500 manufacturing company and CEO of two emerging businesses. He remains active on a number of boards and executive committees related to his technology background. E.C. has a long history of social conservatism as the homeschool father of two children, past church Deacon, foster parent, and supporter of multiple religious liberties organizations.
"I never thought in my lifetime Christians in our country would be silenced and persecuted for their Christian beliefs," Sykes said. "I am inspired and emboldened by Senator Ted Cruz's courageous defense of our religious liberties and his fight to uphold our Constitution."
Buddy Pilgrim comes to the Cruz campaign following a long history of involvement in conservative politics, business and Christian ministry. He is the former President of Pilgrim's Pride Corp., a multi-billion dollar NYSE traded poultry company. He's a business consultant and entrepreneur who founded several successful ventures. Pilgrim was Mike Huckabee's second largest bundler in 2008 and has assisted in various other local, state and national campaigns in a variety of capacities over many years. More applicable to his new role with Cruz, Pilgrim is also an ordained minister who teaches Biblical principles of business and politics. He is known and respected by many national level faith leaders and has worked with them in each of the last several election cycles, calling people of faith to not shrink from their duties in the public square.
"I am extremely excited to be a part of Senator Cruz's campaign with regard to coalescing and mobilizing people of faith – especially our national faith leaders," Pilgrim said. "I have supported several of the other candidates in previous elections, and I consider them friends. They are men of genuine faith; however, now, more than ever, we must pick the one person who will most unwaveringly and fearlessly take a stand to protect our Judeo-Christian conservative values. That one person is Ted Cruz. Fear and faith cannot co-exist; therefore, Senator Cruz's faith will prove strong, because he is absolutely fearless – of liberals and of all Washington establishment insiders." Pilgrim expects to convince other national faith leaders of the same.
Sarah Erdos produces Eagle Forum Live, Phyllis Schlafly's national radio show on public policy and current events. She has previously worked for Bott Radio Network, Cures Without Cloning, and Birthright, a pregnancy care center. Sarah served with the National Day of Prayer, worked with college students as a life and academic coach, and has been active on more than two dozen political campaigns.
"Americans of faith are looking for a courageous president, and they are excited about Senator Cruz," Erdos said. " Behind the pulpit and in the pews, Christians of all ages have been rallying around Ted Cruz, and we have some exciting announcements in the coming days."
Ted Cruz, Press Release - Cruz Campaign Continues to Demonstrate Commitment to Faith and Religious Liberty Online by Gerhard Peters and John T. Woolley, The American Presidency Project https://www.presidency.ucsb.edu/node/315105