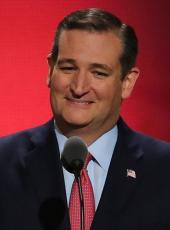 Press Release - Cruz Announces Virginia Leadership Team
Chair and Co-Chairs Joined by Over 45 Leaders From Across the Commonwealth
HOUSTON, Texas — Presidential candidate Ted Cruz today named 47 people to his Virginia Leadership Team compromised of elected officials, Republican Party leaders, Tea Party leaders, small business owners, students, veterans, and faith leaders. Cruz launched his presidential campaign in the Commonwealth of Virginia on March 23, at Liberty University in Lynchburg. He also has also qualified to be on the ballot in Virginia, submitting more than 10,000 signatures to the Republican Party of Virginia, double the amount required.
The Virginia Leadership Team is chaired by Senator William M. "Bill" Stanley, Majority Whip of the Virginia Senate Republican Caucus. Senator Richard "Dick" Black joins Co-Chairs Shak Hill, former candidate for U.S. Senate and United States Air Force veteran combat pilot, and Cynthia Dunbar, a board member of the Virginia First Foundation and former Assistant Professor of Law and Advisor to the Provost of Liberty University.
"We continue to grow our team everyday as more and more people learn about Ted. He is the consistent conservative that our country needs," said State Senator Bill Stanley. "We have an exceptionally committed and experienced leadership team and grassroots organization that will make Ted very competitive on Election Day."
"Our team far exceeded the needed number of signatures to get on the ballot in Virginia, more than doubling the 5,000 signatures required," said State Senator Dick Black. "Ted Cruz's ground game distinguishes his campaign from all the others. It is a formidable accomplishment by our team and I could not be more proud to be part of the organization supporting Ted."
"We have an exceptional team in the Commonwealth, and the success we've had getting more than 10,000 signatures on the ballot, as well as the more than three dozen additional team members, shows we are committed to competing in Virginia and fighting for every delegate," said Cruz. "I look forward to working with each and every one of them as we continue to coalesce conservatives around our campaign."
Virginia State Leadership Team Members:
Chairman Senator William M. "Bill" Stanley, Majority Whip of the Virginia Senate Republican Caucus

Co-Chair Senator Richard "Dick" Black

Co-Chair Shak Hill, former candidate for U.S. Senate and United States Air Force veteran combat pilot

Co-Chair Cynthia Dunbar, Board Member of the Virginia First Foundation and former elected member of the Texas State Board of Education and former assistant Professor of Law and Advisor to the Provost of Liberty University.

Ken Adams, Chairman of the Waynesboro Republican Committee, Chairman of the 24th Senate District Republican Committee

Sandra Adams, STAND Executive Assistant, retired missionary, leader with Concerned Women for America

Melvin Adams, Sr., President, Renewanation

Delegate Mark Berg, MD, Virginia House of Delegates, 29th District

Republican State Central Committee Representative-10th District, Retired Emergency Department physician and Family physician.

Don Blake, Chairman and President of the Virginia Christian Alliance

Daniel Bolton, Director of Spiritual Programs, Liberty University

Rick Boyer, Conservative Activist

Timothy Keith Boyer, Past Vice Chairman, 5th Congressional District Republican Committee; Past Chairman, Campbell County Republican Party

Frank Branson, Chilhowie Christian Church

Rick Buchanan, Virginia Tea Party Alliance Vice Chair; Fauquier County Tea Party Patriots; Virginia Vision PAC Vice Chairman

Charles Cooper, Founding Member and Chairman of Cooper & Kirk, PLLC

Wayne Cunningham, Prince George County Republican Committee Chairman; Chester Patriots Tea Party Leader

Suzanne Curran, Republican Party of Virginia State Central Committee Vice Chairwoman, Western Region; Member, Shenandoah Valley Constitutional Conservatives; Member, Virginia Federation Republican Women

Mark Daughtery, Former Chair of the Virginia Tea Party Patriots Federation; Leader, Shenandoah Valley Tea Party Patriots

Susan Edwards, 9th Congressional District State Central Committee Representative, Republican Party of Virginia; Roanoke County Republican Committee, Treasurer & Catawba Magisterial District Chair

Ann Taetzsch Fitzgerald, State Central Committee for the Republican Party of Virginia, Chair of the Legislative District Committee for District 20 of the House of Delegates; former Chair of the Staunton Republican Committee

Reagan George, President of the Virginia Voters Alliance; Former 2nd Vice Chairman, Virginia Tea Party Federation; Founder, Fair Lakes Area Tea Party; Fairfax County Republican Committee Member

Mike Giere, Former Virginia Republican Party State Central Committee Member

John Gress, Event Planner, Covenant Church

Matt Groves, President, Fauquier County Young Republicans Club

Donna Hamilton, Virginians for Quality Healthcare Research Director and former Executive Director

Kathy Hayden, Virginia RNC Committee Woman

Anita Hile, Henrico County Tea Party Leadership, Secretary of the Virginia Tea Party Federation

Mark Hile, Henrico County Tea Party Leadership

Ringo Lanzetti, Small Business Owner

Shayam Menon, Falls Church City Republican Committee; former Secretary of the Indian American Republican Council

Delegate Brenda Pogge, Virginia House of Delegates, 96th District

Rev. Dr. Paul Michael Raymond, The Reformed Bible Church

Alec Sackett, Virginia Student State Director; Vice President of Liberty University Young Americans for Freedom

Chris Shores, Founding Board Member of the Virginia First Foundation; Virginia Republican Party State Central Committee Member

Nancy Smith, Virginia Grassroots Activists; Former Elections Chair for the Virginia Federation of Tea Party Patriots; Owner of We rVirginia, LLC

Pastor Ken Sparks, Grace Baptist Church

Dan Thompson, Former The Family Foundation Vice President- Advancement

Pastor Buddy Thompson, Senior Pastor, Life Church, Virginia

Ashley Traficant, Liberty University Campus Coordinator

Anh Tu Do, Business Women and Conservative Activist

Steve Waters, Founding Board Member of the Virginia First Foundation and Grassroots Director

Dean Welty, Founder and Director, Valley Family Forum

Zachary Werrell, Conservative activists and former Campaign Manager, Dave Brat for Congress

James Willis, Montgomery County Republican Party Communications Committee Chairman

John Wood, Liberty University Campus Coordinator

Waverly Woods, Hampton Roads Tea Party Chair; Virginia Tea Party Patriots Federation Events Chair; Former Dave Brat for Congress organizer
Ted Cruz, Press Release - Cruz Announces Virginia Leadership Team Online by Gerhard Peters and John T. Woolley, The American Presidency Project https://www.presidency.ucsb.edu/node/314573