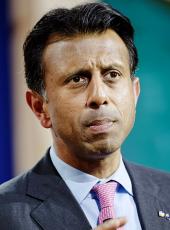 Press Release - Conservatives Declare Jindal Winner
If you want to know who conservatives think did well last night in the first debate, look no further than Ben Domenech's take on Jindal's breakout performance in The Transom this morning:
"Bobby Jindal was the clear winner of the undercard debate. I saw a number of journalists suggesting it was Lindsey Graham, but I don't buy it at all – Jindal essentially was able to position himself as the only real outsider on the stage, and that stands to his benefit. His tangling with Graham on Planned Parenthood and his disgust with Washington Republicans stood out, and if there is anyone who could elevate from that debate to the main stage next time, it's him."
Erick Erickson of RedState also declared Jindal the winner:
RedState: Bobby Jindal Wins the First Debate
And Leon Wolf published a column with the same conclusion:
"Really, Jindal was the only candidate on stage capable of of displaying a grasp of policy details, talking about actual accomplishments, or, quite frankly, of coming off as a socially well adjusted person...Moving forward, the answer to the debate conundrum is obvious – move Jindal up to the big stage and eliminate the JV debate once and for all."
If you missed Jindal in the debate, watch one of the top moments here:
Senate Republicans need to stand up and fight. I'm tired of the DC establishment saying "there's nothing we can do." https://t.co/AfdKvt9T4q

— Gov. Bobby Jindal (@BobbyJindal) September 17, 2015
And if you want to know who liberals think won, look no further than Dan Pfeiffer, Obama's former communications director, who thinks a DC establishment republican (Lindsey Graham) won the debate.
1 hour in: Lindsey Graham has won this debate. Santorum is angry, Jindal is ridiculous, and Pataki looks like he walked into the wrong room

— Dan Pfeiffer (@danpfeiffer) September 16, 2015
On the other hand, conservative thinkers believe Bobby Jindal told the truth last night and smacked down DC establishment Republicans for not fighting for conservative values.
An hour later I'm still getting emails from people suddenly rooting for @BobbyJindal

— Erick Erickson (@EWErickson) September 17, 2015
Jindal hitting Congressional Republicans. He asks, what's the point of having the majority? Good tactical play. #GOPDebate

— Guy Benson (@guypbenson) September 16, 2015
Likeliest breakout is Jindal.

— Ben Domenech (@bdomenech) September 16, 2015
Bobby Jindal, Press Release - Conservatives Declare Jindal Winner Online by Gerhard Peters and John T. Woolley, The American Presidency Project https://www.presidency.ucsb.edu/node/311702