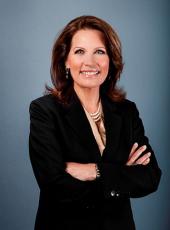 Press Release - Conservative, Pro-family Icon Phyllis Schlafly to Iowans: "Cast Your Caucus Vote For Michele Bachmann"
Urbandale, Iowa — Phyllis Schlafly, a national leader of the conservative movement since the 1960s, today urged Iowans to support Republican presidential candidate Michele Bachmann in the State's first-in-the-nation caucuses.
"You have the opportunity to make a real difference for our nation on January 3," Schlafly writes in a message to voters. "Most important, Michele has the courage to be a leader among her peers. She is a real champion in speaking up for values we care about. Michele is a woman of faith and the mother of a beautiful family. She has a 100 percent pro-life record and is a strong supporter of traditional marriage."
She continued, "We don't want the media to choose our candidate, or tell us we must choose one of the two who currently lead in the polls. We want a consistent conservative who will lead the battle to terminate Barack Obama's plans to 'fundamentally transform the United States.' Throughout the past months of campaigning and presidential debates, Michele Bachmann has been an unwavering and articulate advocate for traditional values and fiscal sanity."
Schlafly also noted that the three-term congresswoman has "worked tirelessly against the expansion of unpopular government programs such as Obamacare and skyrocketing levels of deficit spending."
"If I were an Iowa voter, I would be making plans right now to cast my vote for Michele Bachmann for President on January 3. I hope you will take advantage of this golden opportunity to support a candidate we can all be proud of," Schlafly said.
Schlafly, who was named one of the 100 Most Important Women of the 20th Century by theLadies' Home Journal, has been a national leader of the conservative movement since the publication of her best-selling 1964 book, A Choice Not An Echo. She has been a leader of the pro-family movement since 1972, when she started her national volunteer organization now called Eagle Forum. In a ten-year battle, Mrs. Schlafly led the pro-family movement to victory over the Equal Rights Amendment, which was the principal legislative goal of the radical feminists. Her syndicated column appears in 100 newspapers, her radio commentaries are heard daily on more than 600 stations, and her radio talk show on education called "Eagle Forum Live" is heard weekly on 75 stations across the country.
Michele Bachmann, Press Release - Conservative, Pro-family Icon Phyllis Schlafly to Iowans: "Cast Your Caucus Vote For Michele Bachmann" Online by Gerhard Peters and John T. Woolley, The American Presidency Project https://www.presidency.ucsb.edu/node/298957