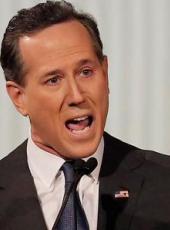 Press Release - Conservative Iowa Leaders Endorse Santorum
Santorum picks up endorsements of prominent state legislators
Verona, PA - Former Senator Rick Santorum (R-PA) announced today that his presidential campaign has received the endorsements of Iowa State Senator Rob Bacon (R-Maxwell) and Iowa State Representative Dawn Pettengill (R-Mt. Auburn).
State Senator Rob Bacon said, "Senator Santorum has shown the leadership and commitment to the people of Iowa and the nation voters expect from the next President. Senator Santorum has focused his campaign and his career in public service in empowering Americans and protecting the founding principles upon which our nation was founded. I am proud to endorse Senator Santorum's candidacy and I am excited to work with him and his campaign win the Iowa caucuses."
State Representative Dawn Pettengill said, "Senator Santorum has stood out as a man of conviction and principle at a time when our nation needs true leadership. I am honored to endorse his candidacy because he has the experience and substance we need. Senator Santorum's commitment to conservative values, his record of accomplishment, and passion for listening to the people of Iowa set him apart from the Republican field."
Senator Santorum said, "I am honored to receive the endorsements of Rob and Dawn. They are true leaders for Iowa in Des Moines because they not only talk conservatively, but they lead on conservative principles. I look forward to working with Rob and Dawn as we work toward victory in the First-in-the-Nation caucuses."
State Senator Rob Bacon (R-Maxwell) is a strong proponent of Iowa taxpayers and Iowa's agriculture industry. Bacon serves on the State Senate Economic Growth/Rebuild Iowa, Human Resources, Local Government, and Veterans Affairs Committees. He is also a member of the Commission on Tobacco Use Prevention and Control as well as the State Child Care Advisory Council.
State Representative Dawn Pettengill (R- Mt. Auburn) is a former mayor and city council person of Mt. Auburn, IA. Pettengill serves on the Commerce, State Government, Ways and Means, and Rebuild Iowa Committees. In addition, Pettengill currently serves as the Ranking Member of the State House's Ethics Committee. Pettengill has been honored as a "Friend of Agriculture" by the Iowa Farm Bureau, a "Friend of Agribusiness" by the Agribusiness Association, and a "Guardian of Small Business" by the National Federation of Independent Business.
The endorsements of State Senator Bacon and State Representative Pettengill are in addition to the prior endorsement of Senator Santorum by Iowa State Representative Walt Rodgers (R-Cedar Falls).
Rick Santorum, Press Release - Conservative Iowa Leaders Endorse Santorum Online by Gerhard Peters and John T. Woolley, The American Presidency Project https://www.presidency.ucsb.edu/node/298234