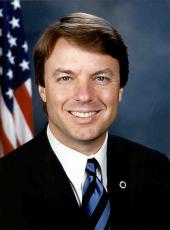 Press Release - Congressman Jim Oberstar And 25 Minnesota Leaders Endorse John Edwards For President
Chapel Hill, North Carolina – The John Edwards for President campaign announced today that U.S. Congressman Jim Oberstar, Chairman of the Transportation and Infrastructure Committee and 25 other Minnesota DFL leaders endorsed John Edwards for President. The Minnesota leaders include three state senators and 10 state representatives. Among those endorsing Edwards for President are State House Majority Leader Tony Sertich, State Senators Thomas Bakk, Steve Murphy and Ann Rest and former Chair of the Metropolitan Council Ted Mondale.
"Jim always stands up for the people of Minnesota, whether it's fighting to raise the minimum wage, standing up for veterans' rights or working to bring our troops home from Iraq," said Edwards. "I am proud to have his support and the support of these outstanding Minnesota leaders, who continue to fight for progressive causes."
Congressman Oberstar endorsed Senator Edwards saying:
"John Edwards is a trustworthy, honorable and dignified man. When he says that he wants to transform America you believe him. His life experiences have prepared him for the job.

"The next president faces tremendous challenges and John Edwards has a plan to provide relief for the 47 million uninsured Americans by providing them with universal health coverage. He has called for a national goal of eliminating poverty within 30 years, with policies rooted in the core American values of opportunity for everyone and responsibility from everyone. And he has a plan to restore America's moral leadership by cleaning up the mess in Iraq. A John Edwards presidency will transform America for the better."
Mondale endorsed Edwards saying:
"John Edwards has struck a nerve with progressive democrats in Minnesota. By providing bold leadership and detailed proposals on the core issues, he is earning the strong support of Minnesota's political leaders."
The Minnesota DFL leaders endorsing Edwards for President are:
State Senators

Sen. Thomas Bakk

Sen. Steve Murphy

Sen. Ann Rest
State Representatives House Majority Leader Tony Sertich

Rep. Jim Davnie

Rep. Alice Hausman

Rep. Thomas Huntley

Rep. Sheldon Johnson

Rep. John Lesch

Rep. Erin Murphy

Rep. Aaron Petersonv Rep. Marsha Swailsv Rep. Ryan Winkler
Former State Senator

Becky Lourey
Former State Representative

Andrew Dawkins
Former Duluth AFL-CIO Presidents

Randy Asunma

Mary Rosenthal

George Sundstrom
Community Leaders

Ted Mondale, former Chair of the Metropolitan Council

Scott Benson, Minneapolis City Council member

Gail Dorfman, Hennepin County Commissioner

Retired Judge Gerald Heaney

Alan Netland

Laura Nevitt, Governor Howard Dean 2004 Minnesota State Director

Erik Peterson
John Edwards, Press Release - Congressman Jim Oberstar And 25 Minnesota Leaders Endorse John Edwards For President Online by Gerhard Peters and John T. Woolley, The American Presidency Project https://www.presidency.ucsb.edu/node/293795