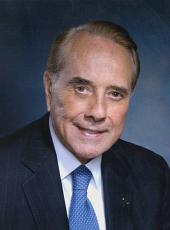 Press Release - Commander-in-Thief Watch
For More Info, Call the Dole/Kemp Press Office at 202/414-6444
"There he goes again. Today, Bill Clinton proposed that the government ensure health care coverage for temporarily unemployed families for up to six months. It's a good idea, but it's also an idea that Bob Dole proposed more than 10 years ago when he introduced a similar bill with Senators Specter, Durenberger, Heinz, Roth, and Bradley.
"The Clinton vision seems to be a window looking out on Bob Dole. On issue after issue, Bill Clinton has come out in favor of Bob Dole's position. But when you're comparing the original and an unreliable copy, we know the voters will choose the genuine article this November.
"Unfortunately, Bill Clinton's announcements today didn't end with mimicking Bob Dole's ideas. Today, on the topic of nationalized health care, Bill Clinton proved to be a firm believer in the adage: "If at first you don't succeed ... try, try again."
- Dole/Kemp '96 Deputy Press Secretary Christina Martin

      THE LIST GOES ON ...

      More Clinton Stolen Ideas from Bob Dole and the GOP

DOLE INITIATIVE               CLINTON IMITATION

Welfare Reform                "Clinton vowed to 'end welfare as we

                               know it' in 1992 but put that on the

                               back burner for three years.

                               He highlighted it again in 1994 when

                               Republicans began pushing welfare

                               reform." (New York Post, 5/31/96)

Computerized Registry To      "President Clinton announced plans today

Track Sex Offenders           to create a nat

ional sex offenders

                               registry." (AP, 6/22/96)

Same-Sex Marriages            "Clinton last week said he'd sign the

                               Republican-backed bill to let states ban

                               same-sex marriages." (New York Post,

                               5/31/96)

Death Penalty Appeals         "Clinton endorsed the idea and signed it

                               into law." (New York Post, 5/31/96)

Megan's Law                   "Republicans pushed the idea of

                               requiring the public to be warned when

                               convicted sex offenders move in.

                               Clinton signed a national version with

                               great fanfare a few weeks ago."

                               (New York Post, 5/31/96)

Comp Time For Workers         "In an election-year appeal to

                               Americans juggling job and family,

                               President Clinton proposed letting

                               workers swap overtime pay for time off

                               and take more unpaid leave for family

                               duties," (AP, 6/24/96)

Victims' Rights Amendments    "Appealing for 'simple fairness,'

                               President Clinton today declared support

                               for a constitutional amendment to

                               protect the rights of crime victims."

                               (AP, 6/25/96)
Robert Dole, Press Release - Commander-in-Thief Watch Online by Gerhard Peters and John T. Woolley, The American Presidency Project https://www.presidency.ucsb.edu/node/315431