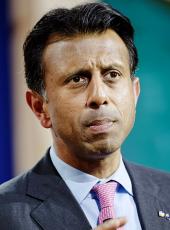 Press Release - CNN.com Op-Ed: Trump is a Madman Who Must Be Stopped
President Trump today announced that the first season of "The Apprentice: White House Edition" will air on CBS this fall. Contestants, including Gary Busey, Ted Cruz and Kanye West, will vie for Cabinet positions. The announcement came as the newly renamed "Hair Force One" touched down in South Dakota for the unveiling of President Trump's face on Mount Rushmore. Meanwhile, first lady Melania had reason to celebrate as her White House-branded perfume, Trump, by Trump, hit Macy's shelves ...
No, this is not a story from The Onion. It's a vision of our future. The only people who would enjoy a Trump presidency are Jimmy Fallon and Stephen Colbert. The jokes write themselves.
But this is no laughing matter. Our country is slipping away. The liberalism and incompetence of the Obama administration have pushed us to the edge of a socialist abyss.
And yet this is a moment of great opportunity for America. This is a time when we can make dramatic changes and turn our country around. Americans are ready for a politically incorrect conservative revolution. People want to resurrect the spirit of Reagan and Make America Great Again.
The problem with Donald Trump is that he will never be president. His nomination as the Republican candidate would gift the White House to Hillary Clinton. He would self-destruct in a general election. In fact, he may be Clinton's only hope. And even if he were somehow to win, we have no idea how he would govern.
Don't get me wrong, I like the idea of a Donald Trump. I love the idea of an outsider who doesn't care about political correctness and who says things you're not supposed to. Unfortunately, Donald Trump is the wrong messenger. From the moment he announced his candidacy, everybody knew that, but nobody had the backbone to say it.
Well, I do.
Last week, I said on national television that Donald Trump is a shallow, unserious, substance-free, narcissistic egomaniac.
Bobby Jindal, Press Release - CNN.com Op-Ed: Trump is a Madman Who Must Be Stopped Online by Gerhard Peters and John T. Woolley, The American Presidency Project https://www.presidency.ucsb.edu/node/311731