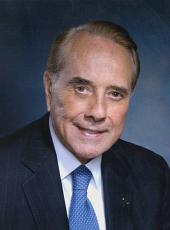 Press Release - Clinton's Hollywood Connection
Why Clinton Won't Speak Out Against the Entertainment Industry
Today in Albuquerque, President Clinton is trying to take credit for reductions in the amount of violence depicted on television. He ought to be explaining the millions of dollars he's taken from purveyors of film and television violence and producers of the 'Gangsta Rap' that glorifies violence and degradation.
Big Money Means Big Reasons Not to Hold Hollywood Accountable
According to the Associated Press, "Hollywood movers and shakers cemented their relationship with President Clinton and the Democratic Party by pouring nearly $615,000 into the party and its candidates last year, dwarfing the $5,750 they invested in the GOP, a review of campaign contributions found. ... A handful of the industry's biggest tycoons donated $100,000 to the Democratic National Committee -- contributions that are not subject to the $1,000 ceiling on contributions to candidates. The mega-donors included Dreamworks partners David Geffen and Steven Spielberg, former MCA Inc. President Syd Sheinberg, and former MCA Inc. Chairman Lew Wasserman." Associated Press, 3/25/96
Lincoln Bedroom for Sale -- White House Perks for Big Entertainment Donors
"The Center for Public Integrity said former MCA exec. Lew Wasserman and his wife. Edith, spent the night in the Lincoln Bedroom at least twice during the Clinton administration and have contributed at $450,000 to Clinton and the Democratic Party since 1991. Wasserman also has contributed to Clinton's legal defense fund and helped raise significant amounts of money for Clinton and the party." Washington Post, 8/25/96
Hollywood's Values Play a "Starring Role" in Clinton's Reelection Efforts.
According to the Los Angeles Times, "Hollywood plays a starring role" in fundraising efforts for Clinton and the Democrats with studio chiefs, producers and movie stars donating 10 times more money to the Democrat National Committee than to the Republicans, and "seven times more to Clinton's reelection campaign to date than to Republican challenger Bob Dole," Los Angeles Times, 8/25/96
Purveyor of 'Gansta Rap' Is Top Five Dem Contributor According to the Federal Election Commission reports and the Los Angeles Times, the "fifth largest contributor to the Democratic Party" in 1922 was Ted Field, the exclusive distributor for Death Row Records," whose "artists" include the late Tupac Shakur, the "Gansta Rapper" who was killed recently in a drive-by shooting. The Wall Street Journal described Field as "Bill Clinton's bankroller." Wall street Journal, 9/17/96
Since 1987, Field has given $219,765 to the Democrat Party, Democrat candidates, and left-wing Political Action Committees -- plus $158,250 in additional "soft money" contributions to State Democrat Parties. Employees of his "Interscope" company donated another $66,300 to Democrats and left-wing Political Action Committees. In an interview with the Wall Street Journal, Field said. "You can tell people who want to stop us from releasing controversial rap music one thing -- Kiss my Ass."
Robert Dole, Press Release - Clinton's Hollywood Connection Online by Gerhard Peters and John T. Woolley, The American Presidency Project https://www.presidency.ucsb.edu/node/315909