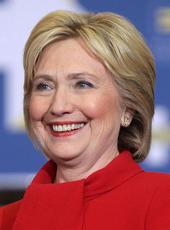 Press Release - Clinton Outlines Comprehensive 10-Point Government Reform Plan
In Major Policy Address, Clinton Stresses Competence Over Cronyism
MANCHESTER, N.H.-- In a major policy speech at St. Anselm College today, Hillary Clinton proposed a series of measures to restore Americans' confidence in their government by increasing transparency and cutting waste and corruption.
"This is a plan to enhance accountability and transparency and make government more efficient and effective for taxpayers," Clinton said. "To restore competence and end the culture of cronyism. To replace secrecy and mystery with transparency. A plan to make our government work for all Americans again."
Clinton would ban cabinet officials from lobbying her administration and strengthen whistleblower protections to encourage those uncovering fraud and abuse.
Decrying the Bush Administration's hand outs to donors and special interests, Clinton vowed to end abuse of no-bid contracts and post all contracts and agency budgets online. Competitively bid contracts have fallen from 79% in 2001 to 48% in 2005. She also pledged to implement an America Results initiative to track the effectiveness of government programs and make the findings public.
"When I'm President, the entrance to the White House will no longer be a revolving door for just the well-connected -- but a door of opportunity for the well-qualified," Clinton said.
Clinton pledged to cut the number of government contractors by 500,000, saving between $10 and $18 billion a year, and track and eliminate unnecessary corporate subsidies through a new agency focused on evaluating corporate welfare.
Finally, Clinton proposed harnessing the latest information technology to make government scientists' findings public on critical issues like global warming and food and drug safety.
Clinton's 10-point plan includes:
Banning Cabinet Officials from Lobbying a Hillary Clinton Administration
Strengthen Whistleblower Protections
Creating a Public Service Academy
Ending Abuse of No-Bid Government Contracts and Post All Contracts Online
Cutting 500,000 Government Contractors
Restore the Office of Technology Assessment
Publishing Budgets for Every Government Agency
Implementing Results America Initiative to Track Government Effectiveness
Tracking and Eliminating Corporate Welfare
Expanding Voting Access and Safeguarding Machines
Hillary Clinton, Press Release - Clinton Outlines Comprehensive 10-Point Government Reform Plan Online by Gerhard Peters and John T. Woolley, The American Presidency Project https://www.presidency.ucsb.edu/node/297166