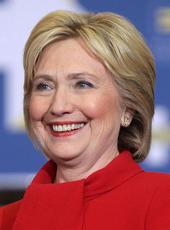 Press Release - Clinton Names Four Nevadans to Veterans and Military Retirees for Hillary
Sen. Daniel Inouye to Lead National Steering Committee
The Clinton Campaign launched Veterans and Military Retirees for Hillary today, naming four Nevadans to the national steering committee. Charles Fulkerson of Reno, Dr. Philip Lisagor of Reno and Valerie and Wayne Smith of Las Vegas were tapped to serve on the committee, a national initiative highlighting Clinton's support of the men and women of our armed services. Medal of Honor Winner and Hawaii Senator Daniel Inouye will lead the group, which will advise the campaign on policy and outreach to the 26 million American veterans and their families.
"We are thrilled that such a distinguished group of Nevadans will be a part of this national committee, serving as key advisors and ambassadors on the issues most important to veterans and their families," said Clinton Nevada Chair Rory Reid. "The military and veterans play a critical role in our state's economy and the very fabric of our culture. Nevadans know that Senator Clinton has been a tireless advocate for soldiers and veterans, ensuring their health and benefits are protected -- from deployment through retirement."
At the time of the last census, Nevada had the fastest growing veteran population in the nation -- with an increase of 31 percent during the 1990s. Veterans make up approximately 16 percent of the state's population.
Clinton has been a longtime advocate for veterans, calling attention to Gulf War Syndrome as First Lady, and leading efforts in Congress to provide life-saving armor for our troops and their vehicles in Iraq. She recently proposed a new GI Bill of Rights, which would expand opportunities for veterans to pursue education and home ownership and provide low-interest loans to start their own businesses. Her bill would also cut red tape for military personnel to receive the benefits and the healthcare they need, and crack down on predatory lenders who target military families.
A University associate professor of military science in the early 1960s, Charles Fulkerson served two tours of duty in Vietnam as well as with the Army Reserve and the Nevada Army National Guard before retiring from active service in 1991. Fulkerson, who received the Nevada Distinguished Service Medal, co-founded the Veterans Guest House in Reno and served as executive director of the Nevada Office of Veterans Services for six years. His military decorations include Legion of Merit with oak leaf cluster, Bronze Star with oak leaf cluster, Meritorious Service Medal with oak leaf cluster, Republic of Vietnam Cross of Gallantry with Gold star and the Combat Infantry Badge.
Dr. Philip Lisagor, a cardiothoracic surgeon and veteran of Desert Storm, Operation Enduring Freedom and Operation Iraqi Freedom. He has served as the DIMA Chief of Quality Management for U.S. Army Medical Command (MEDCOM), serving on the staff of the U.S. Army Surgeon General at Fort Sam Houston, Texas. He served as Deputy Commander of the 31st Combat Support Hospital during Desert Storm in Iraq and Saudi Arabia in 1990, and later as Commander of the European Contingency Hospital with service in Italy, Greece , Sardinia, Botswana and Turkey, including medical support for the removal of atomic weapons under SALT. He has also served as Vice Chief of Cardiothoracic Surgery at Brooke Army Medical Center in San Antonio, Texas; as thoracic and vascular surgeon at Landstuhl in support of OEF in 2003; and as Deputy Commander for Clinical Service for the 2nd Medical Brigade for the U.S. Army in Iraq in 2004. An active reservist, Lisagor will redeploy to Iraq in August as a surgeon with the Combat Support Hospital in Mosul.
Valerie Smith is a ten-year veteran of the United States Air Force, where she attained the rank of Staff Sergeant. She served from 1983-1993, most recently in the position of Quality Assurance Evaluator with the Defense Commissary Agency in Izmir, Turkey. She also served in Operation Desert Storm in 1991. She is the recipient of the Air Force Commendation Medal and Southwest Asia Service Medal, and is also a member of the Disabled American Veterans.
Wayne Smith is a fifteen-year veteran of the United States Air Force where he attained the rank of Master Sergeant. He served from 1978-1993, most recently as Superintendent of Operations for the 7241st Security Police Squadron stationed in Izmir, Turkey, where he managed 35 military police officers serving a military and dependent community of over 4000 Americans. He also served in Operation Desert Storm in 1991. Smith's military decorations include the United States Meritorious Service Medal, Joint Service Commendation Medal, Southwest Asia Service Medal and three Air Force Commendation Medals. Valerie and Wayne Smith were married in the U.S. Air Force more than 18 years ago.
Hillary's growing Steering Committee includes veterans of World War II, Korea, Vietnam, Afghanistan and Iraq.
Joining Hillary's Steering Committee today:
U.S. Senator Daniel Inouye (Hawaii)

Veteran, World War II Combat Veteran, Recipient: Medal of Honor
U.S. Congressman Charlie Rangel (New York)

Veteran, US Army, 1948-52
U.S. Congressman Joe Sestak (Pennsylvania)

Veteran, Retired US Navy Admiral

Commanded Aircraft Carrier Battle Group, Afganistan
U.S. Congressman Ed Towns (New York)

Veteran, US Army, 1956-58
U.S. Congressman Jose Serrano (New York)

Veteran, US Army, 1964-66
U.S. Congressman Maurice Hinchey (New York)

Veteran, US Navy 1956-59
Honorable Togo West (District of Columbia)

Former Secretary of Veterans Affairs

Former Secretary of the Army

North Carolina Native
Honorable John Dalton (District of Columbia)

Veteran, United States Navy

Former Secretary of the Navy
Lt. General Claudia Kennedy, Ret. (South Carolina)

Veteran, Three Star General, Highest Rank Achieved by Female

Deputy Chief of Staff for Intelligence
General George Buskirk, Ret. (Indiana)

Veteran, Adjutant General, Indiana Army and Air National Guard
Honorable Vernon Weaver (Florida)

Veteran, World War II and Korea

Former Ambassador to the European Union

Former Naval Academy Board of Visitors
Larry Romo (Texas)

Veteran, US Air Force Reserve, DNC Veterans and Military Families

Texas Democratic Veterans Chair
Joe J. Bernal (Texas)

Veteran, World War II

Former Texas State Senator, Member State Board of Education
Kate Wilder (Virginia)

Veteran, Female Green Beret
Lanon Baccam (Iowa)

Veteran, U.S. Army National Guard, Afganistan 2004 - 05

DNC Veterans and Families Advisory Council
Chuck Fulkerson (Nevada)

Veteran, Two Vietnam Tours, NV Distinguished Service Medal

Founded Veterans Guest House, Served as E.D. of NV Office of Veterans Service
Wayne Smith (Nevada)

Veteran, Air Force Master Sergeant,

Southwest Asia Service Medal 1991 (Married in USAF over 18 years ago)
Val Smith (Nevada)

Veteran, Air Force Staff Sergeant, Member Disabled American Veterans

Southwest Asia Service Medal 1991 (Married in USAF over 18 years ago)
Phil Lisagor (Nevada)

Veteran, Officer, Army Reserve, Two Tours in Iraq

Chief Surgeon
Bob Hannan (New Hampshire)

Veteran, Airforce Captain, Vietnam, Bronze Star
Eleanor Kjellman, (New Hampshire)

Veteran, US Air Force Officer

Son served in Iraq
Joe Wynn (District of Columbia)

Veteran, US Air Force, Viet Nam

Leader of National Assn of Black Veterans, President Vets Group
Bill White (New York)

President, Intrepid Fallen Heroes Fund
Hillary Clinton, Press Release - Clinton Names Four Nevadans to Veterans and Military Retirees for Hillary Online by Gerhard Peters and John T. Woolley, The American Presidency Project https://www.presidency.ucsb.edu/node/293106