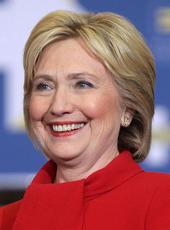 Press Release - Clinton Joins New Hampshire Moms to Honor Mother's Day
Calls for Healthcare for America's Children
WASHINGTON-- Hillary Clinton celebrated Mother's Day today by calling for health care for every child in America, urging Congress to pass the Children's Health First Act and give mothers the gift of peace of mind. The campaign also posted a video of Hillary discussing the important role her mother played in her life, and encouraged supporters to send Mother's Day eCards through Hillary's website.
"Nothing keeps mothers up at night more than worrying whether their children will have the health care they need if they get sick," Clinton said. "We have a moral obligation to our children to give them a healthy start in life."
Clinton introduced the Children's Health First Act in March to extend coverage to the 9 million uninsured children across the country. As President, she is committed to providing affordable, quality health care for all Americans.
There are still approximately 17,000 children in New Hampshire who remain uninsured. In New Hampshire, the State Children's Health Insurance Program (SCHIP) is administered through New Hampshire Healthy Kids (NHHK), which is a non-profit organization providing access to low-cost and free health coverage options for New Hampshire's uninsured children and teens. Over the past decade, NHHK has helped more than 70,000 children in accessing health coverage. There are approximately 10,000 children in Rockingham county enrolled in the program.
President George W. Bush has proposed to limit the enhanced SCHIP federal matching dollars for families that fall under 200 percent of the federal poverty level (FPL). If this proposal passes, 80 percent of New Hampshire's SCHIP kids would lose the enhanced federal match. Based on enrollment and costs today, New Hampshire stands to lose $2 million annually or $10 million over a five year period. This could lead to over 6,000 New Hampshire children losing coverage.
Kelsi McCarthy of Portsmouth, who joined Senator Clinton today, said she and her husband Wayne pay premiums that range from $45 to $135 a month, depending on how much Wayne, who is a self-employed contractor, brings home. Her son, Dakota, who is enrolled in NHHK, could lose his health care coverage if the Bush budget proposal passes.
"Senator Clinton was ahead of her time when she developed the universal health care plan as First Lady," said Kelsi McCarthy. "Without SCHIP money to fund NH Healthy Kids, my son, Dakota wouldn't be able to participate in school sports; my husband might have to give up his '˜American dream' of being a business owner."
Shaundra Lee Page of Stratham is a 24-year-old single mother with two young daughters Tricia, 1 and Allie, 3, who are both enrolled in New Hampshire Healthy Kids. "I don't know what I would do without this program. I worry about my daughters getting sick every day."
According to the Kaiser Family Foundation, the ranks of the uninsured are growing--low-income children made up 23 percent of the 1.3 million newly uninsured between 2004 and 2005. And children without insurance face far more difficult lives, as needed care is more likely to be postponed and they are less likely to see a physician or dentist for standard preventive care. Uninsured children admitted to the hospital due to injuries are twice as likely to die while in the hospital as their insured counterparts.
Hillary's legislation allows States to expand children's health coverage to families up to 400 percent of the Federal poverty level (which is $70,000 for a family of three) through the State Children's Health Insurance Program (SCHIP) and receive increased federal payments.
Her bill includes incentives for states to expand children's health care to those who are not eligible, and identify and enroll uninsured kids that already qualify for coverage. The bill offers a new affordable coverage option for both families and employers by allowing them the opportunity to buy health insurance coverage through SCHIP. And it provides new incentives to strengthen and protect employer-sponsored coverage, something more than 50 percent of children enjoy today.
Hillary Clinton, Press Release - Clinton Joins New Hampshire Moms to Honor Mother's Day Online by Gerhard Peters and John T. Woolley, The American Presidency Project https://www.presidency.ucsb.edu/node/293011