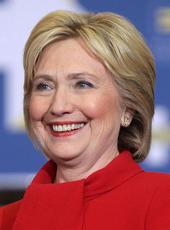 Press Release - Clinton Campaign Launches Text Messaging Effort to Continue Conversation With Voters
Supporters Can Text "Join" to 77007 to Receive Regular Campaign Updates
When Hillary Clinton said she wanted to have a conversation with Americans, she really meant it. She's been visiting Americans in their local communities and has done live video conversations on the Internet, now she's taking it to a whole new level: text messaging Americans throughout the country.
Clinton's campaign is launching an innovative new initiative today to reach supporters across the country utilizing cell phone text messaging. Clinton's text messaging effort is focused on maximizing her efforts to communicate directly with supporters by giving them regular campaign updates, including information about the campaign and photos from events.
"By harnessing the power of text messaging, we can engage voters in the political process using the latest technology and provide personalized, local campaign updates to our supporters nationwide," Clinton said. "This is an exciting step forward that I hope will continue our conversation with voters in a new format."
How does it work? For supporters to join, they can simply text 'JOIN' to 77007. Hillary will first ask people to join at today's endorsement event in Albany where she will receive the support of Governor Eliot Spitzer, Lt. Governor David Paterson and all of New York's statewide officials. Voters can also sign up to join Hillary's network on the campaign website at www.hillaryclinton.com.
What information will voters receive via text message? Supporters will get regular updates from Hillary's campaign, including messages and photos that are personalized for their area. The campaign will also ask for voters' input and offer a feature allowing supporters to surf Hillary's website on their mobile phones.
Relevant Facts and Figures

There are currently 236,000,000 cell phone users in the U.S. -- 76% penetration.
10.5% of homes in the U.S. are wireless only (projected to be 30% by end 2008)
In December 2006 alone, there were 18.7 billion text messages sent -- up 92% from 9.7 billion in December 2005. 195 billion for the year
In the first six months of 2006, the number of subscribers to two-way SMS (text messaging) grew by 88%.
According to the NPD Group, by mid-2006, 42% of all wireless subscribers used their wireless phone as their primary phone.
By the middle of 2006, almost half of wireless customers in the U.S. were using some form of wireless data -- surfing the wireless web, sending text and photo-messages, or downloading and playing games, ringtones, or music files.
Hillary Clinton, Press Release - Clinton Campaign Launches Text Messaging Effort to Continue Conversation With Voters Online by Gerhard Peters and John T. Woolley, The American Presidency Project https://www.presidency.ucsb.edu/node/292772