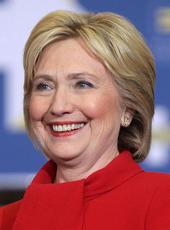 Press Release - Clinton Campaign Launches Missouri Women for Hillary Council
The Clinton campaign announced today the formation of the Missouri Women for Hillary Council. The Council is made up of women from across the state who will be active leaders in Missouri, speaking to their friends, family and associates about this election, and helping to grow the network of women across America supporting Hillary Clinton's campaign.
This announcement is part of the campaign's week long focus on Women Changing America. During the week, the campaign is highlighting the decisive role women can play in this election, discussing issues important to women, and celebrating the ways that women are changing America everyday.
"In 35 years as an advocate for women, children and families, I know that women can make a powerful difference," Hillary said. "Women are changing America and I am so proud to welcome the Missouri Women for Hillary Council to our campaign. Working together, we will address the issues of concern to women and families, and how we can make the changes America needs."
Members of the Missouri Women for Hillary Council will join Hillary for a conference call this week. They are encouraged to be ambassadors for Hillary by reaching out to their networks on Hillary's behalf while also educating and empowering others to make history by making Hillary our 44th President.
"My family's future is what keeps me up at night - affordable education, access to health care, and good paying jobs," said May Scheve Reardon, former Missouri State Democratic Party Chair. "That's why I'm supporting Hillary. She knows what it's like to fight for families like mine."
Hillary kicked off the week with an appearance on The View and spoke at the Eleanor Roosevelt Legacy Committee's Annual Fall Campaign Luncheon in New York. On Tuesday, she traveled to New Hampshire to announce a new policy proposal to help parents balance work and family life. On Wednesday, nearly 1,000 women contributors from 47 states around the country will convene for a women's summit in support of the Clinton campaign – a full-day event that will raise well over $1 million. And on Thursday, Hillary will discuss the importance of health care for women when she participates in the Presidential Candidate Forums organized by the Federation of American Hospitals and Families USA and hosts a conference call with health care professionals from the American Medical Women's Association.
The week's events underscore why Hillary enjoys such deep support among women voters by emphasizing how her strength and experience make her the candidate best able to deliver change on the issues most important to them.
The members of the Missouri Women for Hillary Council reflect Hillary's vast and diverse supporters, spanning all occupations and communities.
Hillary's Missouri Women for Hillary Leadership Council includes:
Joyce Aboussie, Business Leader
Amber Boykins, Former State Representative
Bekki Cook, Former Secretary of State
Katie Steele Danner, Athena Consulting, LLC
Genie Hatch, President, St. Charles Women's Coalition
Kathy McKemy, State President, Missouri state chapter of N.O.W.
Ina Montgomery, President, Greater Kansas City Women's Political Caucus
Stacey Newman, Executive Director, Missouri Women's Coalition
May Scheve Reardon, Former Missouri State Democratic Party Chair
Tiffany Reynolds, Chapter President, National Women's Political Caucus of Metro St. Louis
Rebecca Richardson, State President of the Missouri Women's Political Caucus
Rachel Storch, State Representative
List in formation...
Hillary's Missouri Women for Hillary Council includes:
Alta Stephens, Independence
Bethany Boyd, Springfield
Billie Boykins, St. Louis
Cathy Silcock, Columbia
Cecilia Savala, Grain Valley
Cheryl Primm, St. Charles
Christine Bierman, St. Louis
Debbie Rethemeyer, Florissant
Dena Sanders, Lebanon
Doris Jackson, St. Louis
Emily Dorfman, St Louis
Gail Elble, Clayton
Ginger Holczer, Ozark
Jane Barker, Richmond Heights
Janet Durrange, Florissant
Jan Hoffman, St. Louis
Jennifer Garlich, St. Louis
Jessica Cain, Cape Girardeau
Jill Fisher, St. Louis
JoAnn Smith, St. Louis
Jon Hinkle, Clinton
Julie Barker, St. Louis
Kate Anderson, St. Louis
Kathleen Tucker, St. Louis
Kathy Long, Kansas City
Kay Gabbert, St. Louis
Kerry White, Columbia
Lynda Leavitt, Wentzville
Marlene Hammerman, St. Louis
Mary Ann Kroeck, St. Louis
Pearlina Boyd, St. Louis
Retta Crawford, St. Louis
Rosemary Smithson, Kansas City
Sherry Doney, Ballwin
Sherry Boyles, Kearney
Shirley Smith, St. Louis
Shonagh Clements, St. Louis
Susan Gibson, House Springs
Susan Sweany, Independence
Tracy McCreery, Saint Louis
List in formation...
Hillary Clinton, Press Release - Clinton Campaign Launches Missouri Women for Hillary Council Online by Gerhard Peters and John T. Woolley, The American Presidency Project https://www.presidency.ucsb.edu/node/292756