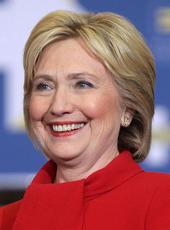 Press Release - Clinton Campaign Announces Nevada Health Care Leadership Council
More Than 45 Health Care Professionals to Advise Campaign, Mobilize Support Among Health Care Voters
Hillary Clinton's Nevada campaign today announced the formation of the Nevada Health Care Leadership Council, a group of established health care professionals and community leaders endorsing Clinton's bid for the Presidency. The council will advise the campaign on health care industry issues and lead efforts to mobilize support among Nevadans concerned with quality, affordable health care.
"As the cost of care continues to spiral out of control and the number of uninsured Americans grows, we need a president who will lower costs, expand coverage, reduce restrictions on health care providers' ability to make decisions, and reform a system to be preventive instead of reactive," said Carolyn Yucha, RN, PhD, FAAN. "Hillary Clinton's experience as a pioneer for health care reform and her tireless fight for uninsured Americans who are invisible to the current administration, make her the right candidate to fix our nation's broken health care system."
"Hillary Clinton has been a constant advocate for expanding health coverage, through programs like the State Children's Health Insurance Program – and for ensuring quality care by bringing forward legislation to help recruit and retain quality nurses," said Jesse Danen RN, MSN. "The nation's health care crisis is magnified here in Nevada. We need Hillary Clinton's leadership and experience in the White House, and I am excited to work with my colleagues on this council to support her campaign."
"This council is comprised of outstanding leaders in the health care industry dedicated to fixing the nation's health care system," said Clinton Nevada Chair Rory Reid. "Their presence in the community will play a key role in mobilizing support for Hillary during the January caucus. These endorsements from prominent health care workers reinforce Hillary Clinton's status as a champion for health care reform and we are proud to have their support."
The founding members of Hillary Clinton's Nevada Health Care Leadership Council, announced today, are:
Dr. Romualdo Aragon , MD, Filipino Doctor's Association, Nevada Chapter President
Dr. Shirley Bailey, DDS
Jonathan "Boone" Bauer, BS, MHT
Dr. Willaim Bauer, MD
Dr. Steven Becker, MD, Ear, Nose & Throat
Dr. Jerald Boyers, MD
Dick Collins, health care activist
Dr. Dosheen Cook, clinical psychologist
Dianne Cyrkiel, RN, MSN, CPNP
Jesse Danen, RN, MSN, member Nurses Organization for Veterans Affairs (NOVA)
Afifa Dastagir, RN
Dr. Albert Demers, optometrist
Gregg Dennis, health care consultant & health care administrator
Dr. Bill Evans, MD
Trish Greif, registered dental hygienist
Kevin Gulliver, RN
Mylan Hawkins, 30-yr community health care advocate
Carol Karabin, RN
Dr. Mitchell Keamy, MD, anesthesiologist
Judith Klein, RN
Dr. Phil Lisagor, MD
Sudie Lumpkin, RN
Denise McGuinn, RN
Dr. Leonard Mehlmaur, MD
Dr. Ninita Mehlmaur, MD
Joanne Molnar, RN
Chris Moore, RN
Theresa Moore, RN
Craig Morris, DDS
Jean Morse, RN
Jeannie Olivares, licensed pharmacy technician
Dr. Prabhu Rachakonda, MD, pulmonary specialist
Carol Rajchel, RN
Laurey Ray, mental health care clinic administrator
Ken Richardson, health care administrator
Lynn Santos, RN
Melanie Sisson, RN
Brenda Stracner, RN
April Stewart, RN, MED in health education and care
Dr. Paul A. Stewart, MD, pulmonologist and critical care specialist
Kelly Thomas Boyers, health care strategist
Barbara Vaughn, primary care LPN
Sarah Warmbrodt, RN, MSN
Rosemary Wit, RN, MN, and PhD
Sue Witt, RN
Carolyn Yucha, RN, PhD, FAAN
Hillary Clinton, Press Release - Clinton Campaign Announces Nevada Health Care Leadership Council Online by Gerhard Peters and John T. Woolley, The American Presidency Project https://www.presidency.ucsb.edu/node/293696