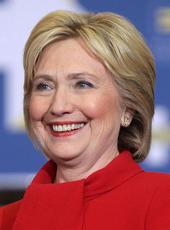 Press Release - Clinton Campaign Announces Mayors Council
US Conference of Mayors President Palmer, More Than 100 Current and Former Mayors Will Advise Campaign
The Clinton Campaign today announced the endorsement of U.S. Conference of Mayors President Doug Palmer and named him a co-chair of the campaign's newly-formed Mayors Council.
Made up of more than 100 current and former mayors from across the country, the Mayors Council will advise the campaign on policy and outreach. The council represents a broad cross-section of America, including urban, rural and suburban cities and towns that reflect the nation's diversity.
"Across America there is a growing hunger for change," said Palmer, Mayor of Trenton, New Jersey. "At a critical time in our history, Hillary Clinton has the strength and experience to lead from her first day in office. She has shown a deep understanding of the issues facing our communities, from improving education to creating new jobs to helping keep our neighborhoods safe, Hillary will be a partner we can count on in the White House."
The following leaders joined Hillary's Mayors Council today.
Hillary's Mayors Council:
Mayors Council Co-Chairs:

Doug Palmer - Trenton, NJ
Lois Frankel - West Palm Beach, FL
Francis Slay - St. Louis, MO
Byron Brown - Buffalo, NY
Frank Willis - Florence, SC
Lena Johnson - Lovelock, NV
Kay Halloran - Cedar Rapids, IA
Sylvio Dupuis - Former Mayor, Manchester, NH
Antonio Villaraigosa - Los Angeles, CA
Otto Lee - Sunnyvale, CA
Miguel Pulido - Santa Ana, CA
Members of the Mayors Council:

Elba Guerrero - Huntington Park, CA
Laura Lee - Cerritos, CA
Louis Byrd - Lynwood, CA
Beverly Johnson - Alameda, CA
Manuel Lozano - Baldwin Park, CA
Kris Wang - Cupertino, CA
Janet Lockhart - Dublin, CA
Barbara Pierce - Redwood City, CA
Jennifer Hosterman - Pleasanton, CA
Ray Soleno - Reedley, CA
Vicki Vidak-Martinez - Rohnert Park, CA
Robert Fierro - Commerce, CA
Ray Luna - Santa Paula, CA
Daniel Furtado - Campbell, CA
Thomas Masters – Riviera Beach, FL
Frank Ortis - Pembroke Pines, FL
Michael Udine - Parkland, FL
Jim Erb - Charles City, IA
Carolyn Shawaker – Garrett Park, MD
Peter Fosselman – Kensington, MD
Kathy Porter -Takoma Park, MD
Diana Fennell - Colmar Manor, MD
Bettyjean Bailey-Schmiedigen - Brentwood, MD
Walter Behr - Somerset, MD
Tom Menino - Boston, MA
Virg Bernero - Lansing, MI
Christian Bollwage - Elizabeth, NJ
Chuck Chiarello - Buena Vista, NJ
Meryl Frank - Highland Park, NJ
Glen Gilmore - Hamilton, NJ
Alberto Santos - Kearny, NJ
Joey Torres - Paterson, NJ
Joe Doria - State Senator and Mayor of Bayonne, NJ
Matt Driscoll - Syracuse, NY
Jerry Jennings - Albany, NY
Robert Duffy - Rochester, NY
Sam Teresi - Jamestown, NY
Wayne Hall - Hempstead, NY
Darryl Hayden - Fulton, NY
Ernie Davis - Mount Vernon, NY
Noam Bramson - New Rochelle, NY
Randy Bateman - Oswego, NY
Paul Pontieri - Patchogue, NY
Ellen Polimeni - Canandaigua, NY
Shawn Hogan - Hornell, NY
Ted Young - Waterloo, NY
Brian Stratton - Schenectady, NY
Valerie Keehn - Saratoga Springs, NY
LeRoy Akins - Glens Falls, NY
James Sottile - Kingston, NY
Nancy Cozean - Poughkeepsie, NY
John McDonald - Cohoes, NY
Robert Carlson - Waterlivet, NY
Ellen McNulty-Ryan - Green Island, NY
Marlinda Duncanson - Middletown, NY
John Nader - Oneonta, NY
Dan Pocek - Bedford, OH
John Street – Philadelphia, PA
David Cicilline - Providence, RI
Raul Reyes – El Cenizo, TX
James Holley – Portsmouth, VA
Wendy Baker - Former Mayor, Fairfax, CA
Sally Lieber - Former Mayor, Mountain View, CA
Carol Liu - Former Mayor, La Canada, CA
Mike Eng - Former Mayor, Monterey Park, CA
Judy Chu - Former Mayor, Monterey Park, CA
Joaquin Gonzalez - Former Mayor, Hanford, CA
Diane Martinez - Former Mayor, Paramount, CA
Leticia Vasquez - Former Mayor, Lynwood, CA
Ofelia Hernandez - Former Mayor, Huntington Park, CA
Juan Noguez - Former Mayor and current Councilman, Huntington Park, CA
Emelina Pedras - Former Mayor, Lynwood, CA
Maria Davila - Former Mayor, South Gate, CA
Frank Quintero - Former Mayor, Glendale, CA
Tomas Martin - Former Mayor, Maywood, CA
Henry Manayan - Former Mayor, Milpitas, CA
Dan Hauser - Former Mayor, Arcata, CA
Thea Gast - Former Mayor, Arcata, CA
Alex Stillman - Former Mayor and current Councilman, Arcata, CA
Jim Test - Former Mayor, Arcata, CA
Cindy Chavez - Former Vice Mayor, San Jose, CA
Wellington Webb – Former Mayor, Denver, CO
Raul Martinez - Former Mayor, Hialeah, FL
Delbert Dean Vokes - Former Mayor, Floyd, IA
Roger Palmer - Former Mayor, Hampton, IA
Steven Van Grack, Former Mayor, Rockville, MD
Richard Castaldi - Former Mayor, Greenbelt, MD
Susan Bass Levin – Former Mayor, Cherry Hill, NJ
Cardell Cooper – Former Mayor, East Orange, NJ
David Dinkins – Former Mayor, New York, NY
Edward Koch - Former Mayor, New York, NY
Frank Pagano- Former Mayor, Fredonia, NY
Lee Brown – Former Mayor, Houston, TX
Hillary Clinton, Press Release - Clinton Campaign Announces Mayors Council Online by Gerhard Peters and John T. Woolley, The American Presidency Project https://www.presidency.ucsb.edu/node/293650