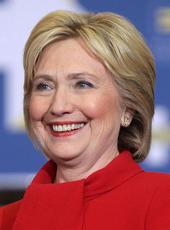 Press Release - Clinton Campaign Announces Asian Americans and Pacific Islanders for Hillary
Congresswoman Matsui Endorses and Will Serve as National Campaign Co-Chair and Chair of AAPIs for Hillary
On Wednesday, Hillary Clinton announced the launch of Asian Americans and Pacific Islanders (AAPI) for Hillary, a national initiative to organize and mobilize AAPI supporters. Clinton made the announcement at an event to celebrate Asian Pacific American Heritage Month attended by leaders of the AAPI community. In conjunction with the launch of AAPIs for Hillary, Congresswoman Doris Matsui announced her endorsement of Hillary Clinton for President and agreed to serve as national campaign co-chair and the national chair of AAPIs for Hillary.
"Asian Americans and Pacific Islanders have a huge opportunity to make a difference in this election," said Congresswoman Matsui. "Hillary Clinton has been a consistent champion and friend of the AAPI community. She is ready to be our next president and the AAPI community is ready to support her. I look forward to leading the charge to help make Hillary the candidate of choice for AAPI voters."
In addition to Congresswoman Matsui, AAPIs for Hillary will be led by prominent leaders from across the country. As part of this effort, the campaign announced organizational leadership in six states/regions as well as committees focused on outreach for each ethnic group within the AAPI community (full committee list below). The committees are expected to expand over the next several months, and the Nevada committee of AAPIs for Hillary is expected to launch next month. Already, thousands of AAPIs have actively supported Hillary Clinton's campaign by participating in fundraising and grassroots activity. AAPIs for Hillary will harness the enthusiasm to grow this group of committed supporters and get them involved in new and existing campaign activities.
"Many Americans, including we in the AAPI community, are ready for a change in leadership in the White House," said Hawaii State Senate President Colleen Hanabusa. "Hillary is ready to tackle the tough issues in this country that have been ignored for too long. From immigration to health care to our role in the world, Hillary will be able to lead this country from day one and help us reclaim the American Dream."
According to the Census Bureau, the AAPI community is the fastest growing ethnic group in the country and currently represents five percent of the total population. AAPIs have particular political strength in several early caucus/primary states. For example, in California, the number of AAPIs eligible to vote has more than doubled from 1990 to 2005. Currently, there are 2.5 million eligible AAPI voters in California, representing 12 percent of California voters.
"AAPIs in California will play a major role in determining the next President of the United States," said Assemblymember Fiona Ma, Majority Whip for the California Assembly. "It's clear that Hillary Clinton understands the significance of this community, and I'm proud to support her candidacy."
AAPIs will also play a significant role in Nevada where AAPIs represent 4.6 percent of eligible voters. There is also a tremendous opportunity to engage new AAPI voters in Nevada. According to APIA Vote, a national nonpartisan, nonprofit organization that encourages and promotes civic participation of the AAPI community, only 42 percent of eligible AAPIs were registered to vote in 2002.
"I am thrilled to have the support of so many Asian Americans and Pacific Islanders, and in particular, leaders like Doris Matsui," said Hillary Clinton. "We're not taking any vote for granted, and I want the AAPI community to know that I hope to earn their vote. Together, we can rededicate our efforts to creating better opportunities and brighter futures for all Americans."
In the Senate, Hillary has championed numerous initiatives to improve the lives of AAPIs, their families and communities. Last year Hillary introduced legislation that would reunite families who have been separated by the immigration system. In addition, she sponsored the Legal Immigrant Children's Health Improvement Act to restore access to Medicaid and SCHIP benefits for legal immigrant pregnant women and children and introduced the Access to Employment and English Language Acquisition Act to provide more job training funds for individuals with limited English language skills. As president, Hillary Clinton will promote an agenda that provides the opportunity, support and tools that AAPIs need to realize the American dream and address the challenges facing the community, including discrimination, language barriers, and poor access to affordable health care.
About Congresswoman Matsui
Congresswoman Matsui was elected to Congress in 2005 to represent Sacramento and its surrounding areas. She replaced her husband, the late Congressman Robert Matsui. During her first week in Congress, Congresswoman Matsui signed on as a co-sponsor of bipartisan legislation to expand the number of stem cell lines available for vital medical research. Since lending her support to that first bill, she has worked to bring Sacramento's voice to legislation focusing on reducing prescription drug prices, expanding access to affordable health care, balancing national security needs with civil liberties, and implementing good government policies.
AAPIs for Hillary Steering Committee
National Chair: United States Representative Matsui
National Chair AAPI Women for Hillary: Irene Natividad, president of Globalwomen Inc.; former president of National Women's Political Caucus
State Steering Committees
California Co-Chairs

California State Assemblyman Michael Eng
California State Assemblywoman Mary Hayashi
California State Assemblywoman and Majority Whip Fiona Ma
Alicia Wang, Vice Chair, Democratic National Committee
Northern California Co-Chairs

Otto Lee, Mayor of Sunnyvale
Henry Manayan, former Mayor of Milpitas; California Filipino American Caucus Chair
Mona Pasquil, former Deputy Political Director of Constituency Outreach for Kerry-Edwards 2004
Southern California Co-Chairs

Rajen Anand, Chairman, National Federation of Indian-American Associations (Affiliation is listed for identification purposes only)
Charmaine Manansala, former advisor to Speaker Nancy Pelosi; former senior policy analyst, White House Initiative on AAPIs
Elena Ong, former Southern California Chair, California Democratic Party Asian Pacific Islander Caucus (Affiliation is listed for identification purposes only)
Florida Co-Chair: Winnie Tang, Miami-Dade County Democratic Executive Committee
Hawaii Co-Chair: State Senate President Colleen Hanabusa
New York Co-Chairs

New York Assemblywoman Ellen Young
John Liu, New York City Councilmember
Chung Seto, former Executive Director of the New York Democratic Party
New York Chinese American Co-Chairs

John Wang, President, Asian American Business Development Center
Fred Fu, President, Flushing Development Center
Peter Cheng, President, United Fukienese American Association
Michael Xu, American Fukienese Association
Herbert Kee, District Leader, NY County & Chinese American Planning Council
Jenny Lam Low, District Leader, NY County & Chair, Chinese American Planning Council
Jimmy Cheng, Vice President, United Fukienese American Association
Oliver Pan, United Fukienese American Association
Virginia Kee, Founder, Chinese American Planning Council
New York Korean American Co-Chairs

Giho Kim, Executive Director of Korean American Counseling Center
John Park, President of Korean American Community Empowerment Council
Chanwoo Lee, Attorney
New York Filipino American Co-Chair: Loida Nicolas Lewis, Chairman and CEO of TLC Beatrice LLC; former National Chair of the National Federation of Filipino American Associations (Affiliation is listed for identification purposes only)
Mid-Atlantic Region Co-Chairs

Danny Aranza, former Clinton Administration appointee
Ed Chow, former Clinton Administration appointee
Shaista Mahmood, community activist
Frances S. Nam, former Clinton Administration appointee
Bouy Te, National Education Association (affiliation is listed for identification purposes only)
Texas Co-Chairs

Jennifer Kim, Austin City Councilmember
Gordon Quan, former Houston City Councilmember
Ethnic-Specific National Co-Chairs
Chinese Americans for Hillary

California State Assemblywoman Fiona Ma
John Liu, New York City Councilmember
Filipino Americans for Hillary

Alice Bulos, Chair Emeritus of the Filipino American Democratic Caucus
Loida Nicolas Lewis, Chairman and CEO of TLC Beatrice LLC; former Chair of the NaFFAA
South Asians for Hillary

Rajen Anand, Chairman of the National Federation of Indian-American Associations (Affiliation is listed for identification purposes only)
Murkesh "Mike" Patel, President of Diplomatic Hotels; former member of the White House Commission on Asian Americans and Pacific Islanders
Islam Siddiqui, former Clinton Administration appointee
Korean Americans for Hillary

Susan Soon-keum Cox, former member of the White House Commission on Asian and Pacific Islanders
Carrie Hyun, former Clinton Administration appointee
Jim Park, President and CEO, New Vista Asset Management Co.; former Clinton Administration appointee
Vietnamese Americans for Hillary

Dang Pham, Vice President, National Congress of Vietnamese Americans for the Western Region (affiliation is listed for identification purposes only)
Trung Ta, President, Vietnamese American Democratic Club
Hillary Clinton, Press Release - Clinton Campaign Announces Asian Americans and Pacific Islanders for Hillary Online by Gerhard Peters and John T. Woolley, The American Presidency Project https://www.presidency.ucsb.edu/node/293569