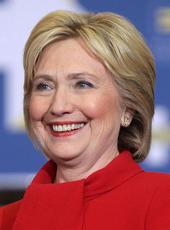 Press Release - Clinton Calls for More Cops on America's Streets
Report Released Last Week Shows Violent Crime On Rise Even As Federal Budget Cuts Police Funding
WASHINGTON--In a major speech to the National League of Cities today, Hillary Clinton called for putting more police officers on America's streets by restoring funding to the nation's community policing program after a report last week showed violent crime rising over the last two years.
"As funding for the COPS program has gone down, crime has gone up," Clinton said. "By boosting funding for community policing we can put more cops on the beat and make our communities safer."
A report released by the Police Executive Forum last week found that homicides increased 10 percent and robberies 12 percent from 2004 to 2006. According to FBI data, aggravated assaults with guns rose 10 percent.
With crime rising in cities across America, Clinton said she would more than double funding for Community Oriented Policing Systems (COPS) to Clinton administration levels of more than $1 billion. President Bush's proposed budget slashes COPS funding by 94%, from $541 million in 2007 to $34 million in 2008, and provides no money to hire new police officers.
Since it was created, the COPS program has funded nearly 118,000 officers in more than 13,000 communities. Between 1994 and 2001, due in part to the COPS grants, violent crime declined by 26 percent and the murder rate fell by 34 percent. An October 2005 Government Accountability Office (GAO) report concluded that for every dollar spent on COPS hiring per resident, crime fell by almost 30 incidents per 100,000 residents.
Hailing the innovative ideas coming out of America's cities, Clinton pledged to partner with local leaders on deploying broadband technology, expanding home ownership and continuing the fight for comprehensive immigration reform and stronger border security.
"Local leaders are on the front lines every day solving the people's problems, and they deserve a partner in the White House," Clinton said. "We must reinvest in our communities, not give them unfunded mandates."
Clinton also said she would restore funding for Community Development Block grants, which the administration has proposed slashing by $1.1 billion. Many cities and towns rely on CDB grants to help pay for affordable housing, job creation and economic development. Studies show that every dollar in block grants spurs three dollars in private investment.
Hillary Clinton, Press Release - Clinton Calls for More Cops on America's Streets Online by Gerhard Peters and John T. Woolley, The American Presidency Project https://www.presidency.ucsb.edu/node/293492