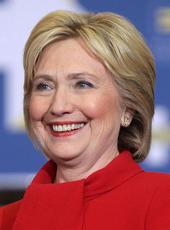 Press Release - Clinton Calls for Medicaid Coverage of Family Planning Services
Legislation Lauded by Planned Parenthood of Greater Iowa
Washington, DC -- Yesterday, Senator Clinton announced the renewal of her legislation calling for family planning coverage for low-income women under the Medicaid program. Her plan would strengthen the Medicaid program to include family planning services and supplies to women who benefit from Medicaid-funded prenatal, labor, delivery and postpartum care.
"We should put politics aside and unite behind a common goal: helping women prevent unintended pregnancies in the first place. Through access to education, contraception, and quality healthcare we can empower women to make safe, affordable, evidence-based family planning decisions," said Senator Clinton.
President Bush's recent budget proposal drastically reduces funding for the Medicaid program, and fails to increase funding for Title X, our national family planning program. The program provides low-income women and their significant others with contraception for family planning purposes. Senator Clinton's legislation called the Unintended Pregnancy Reduction Act of 2007 has the potential to counteract the budget cuts and significantly reduce the high rate of unintended pregnancies and abortions in the United States by allowing for contraception coverage under Medicaid.
According to the Guttmacher Institute (GI), 57 publicly-funded family planning clinics help prevent an average of 13,400 unintended pregnancies in Iowa every year. Those clinics are funded in part by Title X, the same program cut by the Bush administration this year.
GI studies have shown that for every tax dollar spent on family planning services, federal and state governments save three dollars in Medicaid costs for prenatal and newborn care.
The GI reported that 170,060 women who's incomes are below 250 percent of the federal poverty level need Iowa's publicly supported contraceptive services. In order for the clinics to keep their doors open, the state has to pick up the tab when the federal government fails to adequately fund Title X.
President and CEO of Planned Parenthood of Greater Iowa Jill June recently said the following of Clinton's legislation:
"This legislation will significantly aid in reducing unintended pregnancies. This is very important legislation and all Members of Congress should support the families and communities of their districts by voting for this legislation. It's in Iowa and America's best interest to put prevention first."
Clinton first introduced the legislation during the last Congress. She's continually advocated for legislation in the Senate that would reduce the number of unintended pregnancies, preventing abortions and improving women's health.
Hillary Clinton, Press Release - Clinton Calls for Medicaid Coverage of Family Planning Services Online by Gerhard Peters and John T. Woolley, The American Presidency Project https://www.presidency.ucsb.edu/node/293487