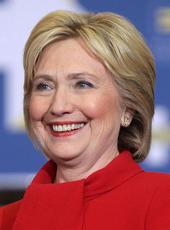 Press Release - Clinton Calls for Hearings on Yucca Mountain, Stop to DOE Licensing Process
As President, Clinton Would Not Proceed with Yucca Project
Senator Hillary Clinton today called for Senate hearings by the Environment and Public Works (EPW) Committee on the proposed nuclear waste repository at Yucca Mountain, citing public safety and health concerns associated with both the site itself, and the transportation of the nation's nuclear waste cross-country along major highways and rail routes.
Clinton has consistently opposed using Yucca as a site for nuclear waste. During an afternoon media teleconference, Clinton pledged that as president she would not move forward with the Yucca Mountain project. But she also cited the need for immediate action in the Senate, to answer questions about Yucca, and begin exploring alternative solutions for nuclear waste storage.
"It's past time to start exploring alternatives to Yucca Mountain because we do need to find a safe, secure, long term waste storage solution," said Clinton. "As President I will work with the scientific community to address this problem and come up with alternative solutions. But for now what we need to do is turn our attention to laying the groundwork for making a better, smarter decision."
One of Clinton's concerns about the Yucca Mountain project is the failure of the Environmental Protection Agency (EPA) to deliver a protective radiation standard for nuclear waste. A previously proposed standard was overturned in court, and the agency was ordered to set a more protective and stringent standard. The agency had announced it would issue a final standard by the close of 2006, but has yet to do so. Clinton pointed out the carelessness of the Department of Energy proceeding with its license application without having a standard by which to gauge public safety impacts.
"I want a hearing which focuses on public health and safety, that makes clear there are specific standards regarding protective radiation," said Clinton. "The Department of Energy should hold off on doing anything further on the Yucca application until the EPA has acted. We need to put pressure on both the EPA and the DOE from the Congress to get this information and require these steps to be taken."
Clinton also cited concerns about safe transportation of nuclear waste across the nation's highways and rail lines. "Given the perils of transportation and potential threat of terrorism... the idea that we're going to gather up nuclear waste from all over the world and cart it across our roads and railroads to Yucca Mountain... is not a very smart position for us," she said.
"Once again, the Bush administration is ignoring science, pushing forward recklessly with this license application without having standards in place. I think this is the appropriate kind of oversight that we should take up in Congress, to force the administration to appear and answer the questions I know people in Nevada and people who are concerned about this issue around the country have."
This Monday, July 23, marks the fifth anniversary of President Bush signing into law the plan to move forward with licensing Yucca Mountain as the nation's nuclear waste repository.
Hillary Clinton, Press Release - Clinton Calls for Hearings on Yucca Mountain, Stop to DOE Licensing Process Online by Gerhard Peters and John T. Woolley, The American Presidency Project https://www.presidency.ucsb.edu/node/293482