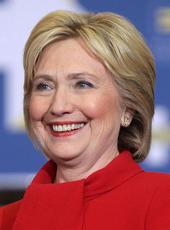 Press Release - Clinton Announces Additions to Nevada Senior Staff
Veteran Nevada Operatives Build on Silver State Strength
The Hillary Clinton campaign today announced four key appointments to lead efforts in Nevada. Former Washoe County Democratic Party Executive Director Pam duPre' and attorney and noted community activist Alisa Nave will serve as the campaign's Political Directors in Northern and Southern Nevada, respectively. Veteran public sector communicator Hilarie Grey will serve as Nevada Communications Director. State Democratic Canvass leader Brian DiMarzio will be the campaign's Deputy Field Director.
"This outstanding group of Nevadans brings unparalleled experience and knowledge that will energize our campaign in the Silver State," said Clinton Nevada Chair Rory Reid. "We're very excited to have them on our leadership team."
Pam duPre' served as Executive Director of the Washoe County Democratic Party from 2003-2006, leading organizational improvements at every level -- including coordinating volunteer efforts, fundraising and forging ties with unions and activist groups. She previously served as Public Affairs Coordinator for the Tahoe Regional Planning Agency, and covered Northern Nevada as a broadcast journalist.
A litigation associate at the Nevada law firm of Lionel, Sawyer and Collins, Alisa Nave is a practiced community organizer and activist, whose work in issue-based coalition building and women's leadership has taken her across the country. She most recently served as In-State Finance Coordinator for the gubernatorial campaign of State Senate Minority Leader Dina Titus.
As a lead communicator for several public sector agencies, Hilarie Grey has been involved with critical Nevada issues ranging from growth, transportation and tourism to higher education. She led the Public Affairs units at the University of Nevada, Las Vegas and Las Vegas-McCarran International Airport during transformational periods for both organizations, and most recently served as Communications Director for Dina Titus' gubernatorial bid.
Brian DiMarzio brings both national and local experience in voter targeting, and as an organizer for both ballot initiative and voter participation drives. He most recently served as Canvass Director for the Nevada State Democratic Party during the 2006 election cycle, leading a team of more than 100 employees.
"Pam and Brian have been true galvanizing forces for organizing and motivating voters in Nevada," said Reid. "Alisa has a proven track record in building working coalitions, and Hilarie brings great in-the-trenches experience and knowledge of Nevada's issues. We are really fortunate -- and just thrilled -- to have such a wealth of in-state talent at the heart of Senator Clinton's efforts in Nevada."
Hillary Clinton, Press Release - Clinton Announces Additions to Nevada Senior Staff Online by Gerhard Peters and John T. Woolley, The American Presidency Project https://www.presidency.ucsb.edu/node/293424