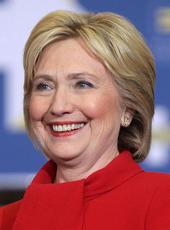 Press Release - Charleston Leaders Announce Support of Hillary for President
County Councilmembers Praise Clinton's Plan to Preserve American Dream of Homeownership
The Hillary for President campaign announced the support of two current and one former Charleston County Council members today. Councilwoman Colleen Condon, Councilman Teddie Pryor and former Councilwoman Cindy Floyd praised Clinton's recently announced plan to strengthen the troubled housing market as important for the Lowcountry and a major reason to support her candidacy.
"When it comes down to it, a big factor in deciding who to support for President is which candidate will do the most not just for our country, but for us in the Charleston area. That's why I'm going to do everything I can to make sure Hillary Clinton is our next President," Councilwoman Condon said. "Senator Clinton has shown she has practical, workable ideas like her plan to protect the American Dream of homeownership. She also has the best experience to go to work for us from her first day in office."
Senator Clinton's plan will curb mortgage abuses, assist families facing foreclosure, and expand affordable housing to protect the American Dream of homeownership. Clinton announced the plan last week and will introduce legislation when Congress returns in September.
"That'll be a big help to a lot of people in Charleston County working hard to make their monthly mortgage payments or looking to buy a home," Councilman Pryor said. "Hillary's plan to crack down on dishonest lenders and give people the opportunity to own their own homes is the kind of thing we'll see from her as President. That's the kind of experience she has and it's the reason I'm going to work to see she gets the chance to make the most of it as President."
Floyd agreed that Clinton's experience was a cornerstone of the decision-making process to support Hillary for President.
"I'm concerned with the future of our community and our state," Floyd said. "Our country is ready for a change. And Hillary Clinton has the best experience to guide that change from the minute she's sworn in. She's the best to represent us here in the Lowcountry from the Oval office."
Councilwoman Condon was elected to the County Council in 2005. She serves on the Finance, Planning and Public Works, Recycling and Solid Waste, Economic Development, Audit and Magistrate oversight Committees. Condon is also a board member of Charleston Area Regtional Transportation Authority, active in the Rotary Club and a Family Court Liason. She is a principal at the Condon Law Firm, LLC.
Councilman Teddie Pryor Sr. was elected to the County Council in 2004. He is chairman of the Planning and Public Works Committee and serves on the Finance, Administration Policy and Rules, Public Safety and Health and Economic Development Committees. Pryor is active in the North Charleston Booster Club, on the Parent Advisory Board and serves as a Deacon in the Evening of Prayer Ministry. He is the owner of Pryor's Towing and Radiator.
Former Councilwoman Cindy Floyd was elected to the County Council in 1998, and served on the council from 1999 to 2002. The Johns Island resident was a South Carolina delegate to the 2000 Democratic National Convention and currently serves on the Charleston County Planning Commission. Floyd is an attorney in Charleston.
Hillary Clinton, Press Release - Charleston Leaders Announce Support of Hillary for President Online by Gerhard Peters and John T. Woolley, The American Presidency Project https://www.presidency.ucsb.edu/node/293356