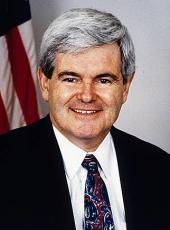 Press Release - Chairwoman of the Iowa Federation of College Republicans Endorses Newt
Natalie Ginty, a senior Biochemistry major at the University of Iowa and Chairwoman of the Iowa Federation of College Republican, writes at The Iowa Republican why she will be caucusing for Newt on January 3rd.
Unlike the current administration, Newt is not blind to the difficulties facing our nation in this perilous time. The 21st Centruty Contract with America shows a deep understanding of the scale and scope of the problems facing America today. Under Gingrich's leadership as Speaker, Congress passed the first balanced budget in a generation. In four years, Gingrich oversaw the creation of a stable economic environment that created 11 million jobs, while reforming welfare programs, restoring funding to strengthen our defense capabilities, expanding NIH research programs, and repaying over $400 billion in federal debt.

Putting Americans back to work needs to be the administration's highest priority. While our current administration disagrees, a Gingrich administration will ensure that America's focus on job creation never waivers. Instead of baseless rhetoric and empty promises, Newt has practical and innovative ideas to solve some of our toughest problems. Nothing will help our deficit or protect our future more soundly than transitioning Americans from a government-dependent economy, to an independently productive economy.

Gingrich will soon introduce his highly anticipated platform on developing brain science at the University of Iowa. His plan is the boldest plan of any Presidential candidate, focusing on common diseases like Alzheimer's, Parkinson's disease, Autism, and others has the potential to save our federal government trillions of dollars in Medicare funding in the future. This innovative proposal will provide a great export to the rest of the world, and will create the type of jobs that Americans need more than ever.

...

Time Magazine may have said it best about their 1995 Man of the Year, "Leaders make things possible. Exceptional leaders make them inevitable. Newt Gingrich belongs in the category of the exceptional." I will be proudly caucusing for Newt Gingrich on January 3rd and I ask that you join me in ensuring that America's best days still lie ahead.
Newt Gingrich, Press Release - Chairwoman of the Iowa Federation of College Republicans Endorses Newt Online by Gerhard Peters and John T. Woolley, The American Presidency Project https://www.presidency.ucsb.edu/node/298558