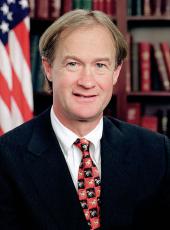 Press Release - Chafee Proposes New Tax Bracket for Wealthy
Calling for a balanced way to address income inequality, Democratic Presidential Candidate Lincoln Chafee today announced a plan that would add one more tax bracket to the current tax code.
Building off the 2012 Taxpayer Relief Act, Chafee's proposal would initiate a new bracket with a marginal tax rate of approximately 45% on income over $750,000. Chafee's plan would preserve the long term capital gains and ordinary dividend tax preferences, but would increase the tax rate on preference income to 25% (from 20%) for those taxpayers with total income over $750,000.
Chafee estimates the $41 billion in additional revenue generated by the new bracket would allow for a $1,000 increase in the personal exemption, which generally benefits lower income taxpayers. Under his plan, the current personal exemption of $4,000 would increase beginning in calendar year 2017.
"We need to address income inequality in this country," said Chafee. "This proposal does just that and would move us closer to the tax code generally applicable in industrialized European countries. The economy is ticking along," noted Chafee, "we don't need a radical change to the tax code which would change economic behavior."
Currently, there are 892,000 returns in the highest tax bracket (39.6% maximum marginal rate for married joint filers with income over $464,850) and they pay $368 billion of the $1.2 trillion in personal income tax revenue; in other words, 0.6% of filers pay 30% of income tax revenue. Despite this fact the wealthy are thriving while low and middle income earners are struggling.
Chafee indicated that he has an open mind on increasing the personal exemption even further by phasing out the personal exemption for filers with six-digit incomes. A phase out of the personal exemption already exists for taxpayers with income over $200,000.
Chafee also supports an increase in the federal minimum wage from $7.25 to $10.10 over the next three years, thereafter indexed to inflation.
Lincoln Chafee, Press Release - Chafee Proposes New Tax Bracket for Wealthy Online by Gerhard Peters and John T. Woolley, The American Presidency Project https://www.presidency.ucsb.edu/node/312697