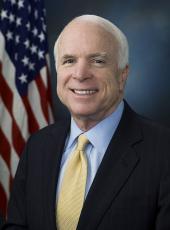 Press Release - "In Case You Missed It": The Caledonian-Record Endorses John McCain
"Based on his experiences as a war hero and independent-minded senator, we have full faith that John McCain will best serve us as president of the United States." -- The Caledonian-Record
"Choosing Our Leader"

Editorial

The Caledonian-Record (VT)

November 2, 2008
On Tuesday Americans will exercise the solemn duty of choosing a president of the United States.
With the nation's economy in shambles and facing security threats home and abroad, the stakes could not be higher.
We need a leader with the fortitude to reign in a crippling national debt, borne of unfunded mandates, ever-expansive entitlement programs and shameful pork-barrel spending.
We need a leader to restore the private and public trusts betrayed by "for sale" members of congress and the big businesses that own them.
We need a leader able to curb the excesses of an expropriative federal government determined to undermine state and local rights toward self-governance and finance.
Presidential elections are our best opportunity to restore balance to our now precariously perched system. We need a president, battle-tested, willing to fight - not for what is popular and politically expedient but for what is right. We need a president beholden to no special interest who can begin the difficult process of restoring fiscal and public faith in our country.
Based on his experiences as a war hero and independent-minded senator, we have full faith that John McCain will best serve us as president of the United States.
ReadThe Editorial
John McCain, Press Release - "In Case You Missed It": The Caledonian-Record Endorses John McCain Online by Gerhard Peters and John T. Woolley, The American Presidency Project https://www.presidency.ucsb.edu/node/291832