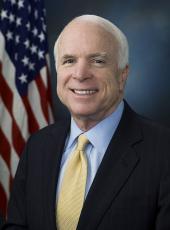 Press Release - "In Case You Missed It": McCain Campaign Conference Call With Governor Jane Swift
ARLINGTON, VA -- Today, former Governor Jane Swift held a conference call to discuss Barack Obama's event today:
Governor Jane Swift: "One of the reasons that I was compelled to support John McCain in the very difficult times was my admiration for his -- not only willingness, but his demonstrated willingness to reach across the aisle to address some of the most vexing issues facing our country. And certainly in a tough economy with all the threats that we face internationally, I think it's incredibly important that we elect a president who can bridge the partisan divide in Washington, not only because he says that's what he intends to do, but more importantly because he's demonstrated the courage to do that in his elected life.
"I guess in looking at the event in appropriately named Unity today, it made me wish that Senator Obama had actually worked as hard to bridge the partisan divide in Washington, D.C., during his short time there, as he is working hard apparently to bridge the divide in his own party with Hillary Clinton voters.
"I think that it is really important to have someone elected who's words mean something, and I think what we have seen in the last several weeks from Senator Obama is a disappointing reality that has emerged that his words really don't mean that much, whether it is the campaign finance pledge that he has reneged on, the current inconsistency with his position on the D.C. handgun ban, issues around trade. It is, I think, becoming obvious to Americans across the country that he is more a typical politician than his lofty rhetoric would have led us to believe. And I think it is that reality, the emptiness of the words that he puts forward when matched up against the reality of his changing positions and his lack of demonstrated ability to reach across the aisle for real results, that is going to cause a problem for Senator Obama, despite events like today as he reaches out to the folks who voted for Hillary Clin ton, and I think rightfully admired some of the times that she was willing to buck her own party and work across the aisle.
"And I think it'll also be on the minds of all Americans that in these difficult and challenging times, the biggest problem we face is electing leaders who are willing to stand up to entrenched interests in Washington, and to work for the best interests of all Americans, and that is something that Senator McCain has earned my admiration, for his consistent willingness to do."
ListenTo The Full Conference Call
John McCain, Press Release - "In Case You Missed It": McCain Campaign Conference Call With Governor Jane Swift Online by Gerhard Peters and John T. Woolley, The American Presidency Project https://www.presidency.ucsb.edu/node/291862