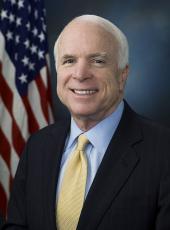 Press Release - "In Case You Missed It": John McCain On Fox News' "Studio B"
John McCain

Fox News' "Studio B"

April 24, 2008
SHEPARD SMITH: "I wanted to ask you about gas. You have called for a holiday over the summer between Memorial and Labor Day from the federal gas tax. What would we sacrifice were such a thing to happen?"
JOHN MCCAIN: "Very little. Maybe a Bridge to Nowhere. Maybe another pork barrel project. It should be made up by general revenues. Look, all I'm asking for is a little holiday. We continue to see gas prices go up dramatically at the gas stations. It's 18 cents a gallon for regular gasoline, and 24 cents on diesel. And you know, when I mentioned it, the special interests in Washington -- you'd of think I had said I'm declaring the end of Western civilization as we know it. Oh my God! Look, the lowest income Americans drive the furthest in America. They want to take a little vacation this summer. Let's give them a little break. Is it a huge impact? Maybe not, but it might be nice to give them a little break."
Watch John McCain On Fox News' "Studio B"
John McCain, Press Release - "In Case You Missed It": John McCain On Fox News' "Studio B" Online by Gerhard Peters and John T. Woolley, The American Presidency Project https://www.presidency.ucsb.edu/node/291657