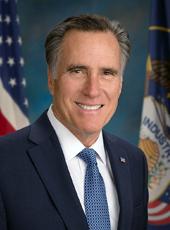 Press Release - In Case You Missed It: Governor Mitt Romney on CNBC's "Kudlow & Company"
CNBC's "Kudlow & Company"

February 7, 2007
...
CNBC'S LARRY KUDLOW: "What sort of tax policy did you talk about in your speech to the Detroit Economics Club?"
GOVERNOR ROMNEY: "Well, the first thing we have to do in tax policy is to make sure we don't put in place, just a few years from now, a massive tax hike. Taxes over time have averaged about 18% of the Gross Domestic Product. If the Bush tax cuts are allowed to expire, that would result in a massive tax increase, why you'd see that go up and up and up. That would hurt our economy. It would slow down job growth. It would reduce the, the income levels of people across this country. It's a bad idea."
KUDLOW: "Do you think that, just on that point, sir, do you think that if the Bush tax cuts are, are not extended in 2010, do you think that would cause an economic recession in the U.S.?"
GOVERNOR ROMNEY: "Well I can't tell you when it would cause a recession, but I can tell you that over time, raising taxes well above the 18% of Gross Domestic Product level would cause a slowdown in growth of our economy, would reduce our employment, would reduce the wages and salaries of people in this country. It's a bad idea. Ronald Reagan, and before him, John F. Kennedy proved that by keeping tax rates low, you create more jobs, more innovation in this country.
"Now the second part of what I talked about today was not just that tax rate, but also making it easier for people to save in this country. Our nanny state, if you will, tells us how we can save. We've got, I'm told, some 20 different savings programs with special tax provisions from the federal government. Let's make it easier. Let's say that there's a number, and I'll pick one out of the air, let's say $5,000 for people filing jointly. People ought to be able to, let's say, get $5,000 of interest, dividends, and capital gains a year without paying any taxes on them at all. Let's let people save their money without all the rules and restrictions and then spend the money the way they want to." ...
To see interview segment, please see: http://www.youtube.com/watch?v=zVEw1JhHcHY
Mitt Romney, Press Release - In Case You Missed It: Governor Mitt Romney on CNBC's "Kudlow & Company" Online by Gerhard Peters and John T. Woolley, The American Presidency Project https://www.presidency.ucsb.edu/node/297161