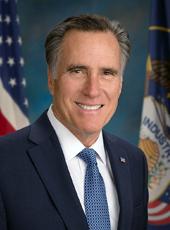 Press Release - In Case You Missed It: "George Romney Was True Man Of Action"
Writing In The [Michigan] Oakland Press, Governor Mitt Romney Remembers George Romney, His Father And The Former Governor Of Michigan, On What Would Have Been His 100th Birthday Today:
"George Romney Was True Man Of Action"

By Governor Mitt Romney

The Oakland Press

July 7, 2007
"On Sunday, George Romney, my father, would have been 100 years old. I expected Dad would be here for the event. I thought that by his sheer, indefatigable will, he would wear death down.
"His will was legend. When he took over American Motors, some bankers had written off the company. Not my dad. He invested everything he had in it. A year later, the company's stock had risen from $7 to $90.
"Dad revolutionized the auto industry by pushing small cars to replace 'gas-guzzling dinosaurs' long before anyone else.
"He led one of the most storied turnarounds in corporate history. He did it by building a great team of both managers and labor, by selling his vision of the future and by inspiring them to achieve it.
"As president of American Motors, he turned the company around from an $11.8 million loss in 1957 to a $60 million profit in 1959.
"Dad was raised in a family that went bankrupt more than once, and he never received a college degree. But he led a successful fight to write a new Michigan Constitution that remains in effect today. And then he ran for governor and won. He was for the common man.
"As governor, he instituted once-a-week office hours when anyone could stop by and talk with him. They got five minutes each to take their complaint right to the top.
"I remember once when he was told he could not attend a Labor Day picnic, he was barred at the gate. Dad stopped the car down the street, climbed the fence and sat down with a union family for lunch.
"His will could convince even some of his natural opponents. Dad felt that hard-working employees deserved a share of the company's profits - a bonus in the good times and none in the bad. He convinced United Auto Workers chief Walter Reuther that profit sharing was the way forward for the auto industry. Too bad it ended when he left the industry.
"A lot of people remember his campaign for president in 1968. With characteristic courage, he told media, 'When I came back from Vietnam, I'd just had the greatest brainwashing that anybody can get.' He felt misled by President Johnson, Secretary McNamara and the generals, as had many Americans. The media pounced, making his use of the term 'brainwashing' a sin.
"It is unfortunate. He would have been a great president. Not long after his withdrawal from the race, I received a letter from my dad, typewritten, single-spaced, in which he expressed no regrets.
"'Your mother and I are not personally distressed,' he said in the letter. 'As a matter of fact we are relieved. We went into this not because we aspired to the office but simply because we felt that under the circumstances, we would not feel right if we did not offer our service.'
"In 1969, President Nixon invited Dad to be Secretary of Housing and Urban Development. Dad opened the way for manufactured housing, which made homes more affordable for millions of Americans. And he fought for integration in housing - not popular with everyone, even within the Nixon administration, but it was the right thing to do.
"Last year, a friend gave me one of his old campaign fliers. It said 'George Romney - Man of Action.' Boy, they got that right. From most humble roots, he rose to lead an auto company, a constitutional convention, a state and a federal department.
"And in each, his will, his integrity and his energy achieved the nearly impossible."
Mitt Romney, Press Release - In Case You Missed It: "George Romney Was True Man Of Action" Online by Gerhard Peters and John T. Woolley, The American Presidency Project https://www.presidency.ucsb.edu/node/296785