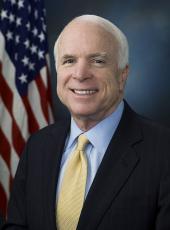 Press Release - "In Case You Missed It": "Cohorts Disavow Obama Stance"
"Three prominent Democrats yesterday rejected Sen. Barack Obama's position of meeting unconditionally with Iranian President Mahmoud Ahmadinejad and leaders of other American enemies." -- The Washington Times
Cohorts Disavow Obama Stance
By Joseph Curl

Washington Times
May 19, 2008
Three prominent Democrats yesterday rejected Sen. Barack Obama's position of meeting unconditionally with Iranian President Mahmoud Ahmadinejad and leaders of other American enemies.
Sen. Joseph R. Biden Jr. of Delaware, former Sen. Gary Hart of Colorado and former Rep. Harold E. Ford Jr. of Tennessee distanced themselves from Mr. Obama's position, each saying that preconditions for any such meeting would be essential.
"I'll concede, you cannot meet with foreign leaders -- with terrorists, rather, those that lead rogue nations -- without some conditions," Mr. Ford said on NBC's "Meet the Press."
Mr. Obama was asked in a Democratic debate in July whether he would "be willing to meet separately, without precondition ... with the leaders of Iran, Syria, Venezuela, Cuba and North Korea."
"I would," Mr. Obama said. "And the reason is this: that the notion that somehow not talking to countries is punishment to them -- which has been the guiding diplomatic principle of this administration -- is ridiculous. ... We have the obligation to find areas where we can potentially move forward. I think that it is a disgrace that we have not spoken to them."
Mr. Obama later said he would first send lower-level diplomats to prepare high-level talks, but has continued to pledge to hold such unconditional meetings. Mr. Hart yesterday pointed to that distinction in the Democratic presidential candidate's position.
"I don't think Barack Obama or any other president is going to meet with a head of state without lower-level discussions preceding that," he said on CNN's "Late Edition." "What you do is send diplomats and negotiators to explore areas of mutual interest. And if it does seem profitable, then you go to the heads of state."
Mr. Biden, who is chairman of the Senate Foreign Relations Committee and sought the Democratic presidential nod this year, said Mr. Obama gave the "wrong answer" in the debate, but added that the senator from Illinois has "learned a hell of a lot."
"What we're talking about here is that he has repeatedly since then said he would not negotiate unconditionally, meaning him sitting down, alone, right off the bat with these leaders," Mr. Biden said on ABC's "This Week."
"This is a fellow who I think shorthanded an answer that in fact was the wrong answer, in my view, saying I would within my first year, it implied he'd personally sit down with anybody who wanted to sit down with him. That's not what he meant. That's not what he has said since then for the last year or thereabout."
Mr. Obama said in February that he has been misunderstood. "I will meet without preconditions," he said on CNN's "The Situation Room."
His campaign Web site includes a line under the heading "diplomacy": "Barack Obama is the only major candidate who supports tough, direct presidential diplomacy with Iran without preconditions."
The issue resurfaced last week when President Bush, delivering a speech to Israel's Knesset in Jerusalem, spoke of Iran, and then said: "Some seem to believe that we should negotiate with the terrorists and radicals, as if some ingenious argument will persuade them they have been wrong all along. ... We have an obligation to call this what it is: the false comfort of appeasement, which has been repeatedly discredited by history."
Mr. Obama took umbrage, but the White House said the president's remarks were aimed at all who advocate appeasement.
White House spokeswoman Dana Perino jabbed at the Democratic front-runner, saying: "I understand when you're running for office you sometimes think the world revolves around you."
One White House official later said the remark was aimed partially at former President Jimmy Carter, who recently held talks with Hamas leaders.
Presumptive Republican candidate Sen. John McCain of Arizona got involved Thursday, asking, "Why does ... Senator Obama want to sit down with a state sponsor of terrorism?" He said Mr. Obama's stance shows "naivete and inexperience and lack of judgment."
The line has become the subject of political commentary. Yesterday, the Obama campaign responded by repeating the candidate's stance of meeting without preconditions and saying Mr. McCain practices "Bush-style bluster."
"While John McCain wants to continue the Bush diplomacy of talking tough in Washington and hoping for the best, Barack Obama has been clear and consistent in calling for tough and principled diplomacy without preconditions," Obama campaign spokesman Bill Burton said.
Meanwhile yesterday, Mr. Obama campaigned in Oregon while his Democratic rival, Sen. Hillary Rodham Clinton of New York, hit the trail in Kentucky. Both states hold their primaries tomorrow. Mr. Obama is favored to win Oregon, while Mrs. Clinton appears to be well ahead in Kentucky.
Mr. McCain did not campaign yesterday. Instead, he raised money in New York over the weekend and appeared on "Saturday Night Live."
"Good evening, my fellow Americans," Mr. McCain said in a mock political ad. "I ask you: What should we be looking for in our next president? Certainly, someone who is very, very, very old."
Closing his appeal, he said: "I have the courage, the wisdom, the experience and, most importantly, the oldness necessary."
Read The Washington Times Article
Also Read The New York Sun Article
Check Out These YouTubes:
John McCain, Press Release - "In Case You Missed It": "Cohorts Disavow Obama Stance" Online by Gerhard Peters and John T. Woolley, The American Presidency Project https://www.presidency.ucsb.edu/node/291613