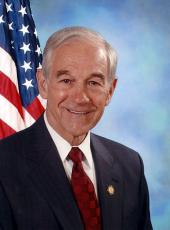 Press Release - In Case You Missed It: Bachmann, Huntsman and Santorum #Fail to Appear on Virginia Ballot
Stringent ballot access requirements, yes — but, um, this is for the U.S. Presidency…
LAKE JACKSON, Texas — National media and political pundits are reporting that Michele Bachmann, Jon Huntsman, and Rick Santorum failed to file the signatures necessary to appear on the Virginia ballot.
This means that on March 6, 2012 or Super Tuesday, the day of the Virginia primary, supporters of the three presidential aspirants residing in the Commonwealth will be denied the opportunity to cast their vote for them.
Bachmann, Huntsman, Santorum don't make Va. ballot

By Emily Schultheis, Burns & Haberman on 2012 — Politico.com
Michele Bachmann, Jon Huntsman and Rick Santorum all failed to meet the requirements for the Virginia ballot, according to the state's Board of Elections.
Of the 2012 GOP hopefuls, just Mitt Romney, Newt Gingrich, Ron Paul and Rick Perry submitted the required number of signatures today.
The state's primary, which is slated for Super Tuesday on March 6, has some of the most stringent ballot access requirements in the country: 10,000 signatures from registered Virginia voters, including 400 from each of the state's 11 congressional districts. And the elections board recommends getting at least 1.5 times the number of required signatures — 15,000 for presidential candidates — in case any of them are found to be invalid.
Mitt Romney, who filed Tuesday, was the only candidate to get 1.5 times the required number of signatures: he submitted a total of 16,026 signatures, according to Chris Piper of the Virginia State Board of Elections.
Paul filed today with 14,361 signatures, Perry had 11,911 and Gingrich had 11,050.
The Gingrich campaign announced yesterday, after "scrambling" to organize in the state, that it had reached the required number of signatures.
The state parties will certify the signatures from each of the candidates and decide by Dec. 27 whether the four GOP candidates are eligible to appear on the ballot, Piper said.
For the original post, click here.
Larry Sabato, political analyst and the Robert Kent Gooch Professor of Politics at the University of Virginia, tweeted this pithy but amusing opinion.
To visit the original tweet, click here.
Ron Paul, Press Release - In Case You Missed It: Bachmann, Huntsman and Santorum #Fail to Appear on Virginia Ballot Online by Gerhard Peters and John T. Woolley, The American Presidency Project https://www.presidency.ucsb.edu/node/299117