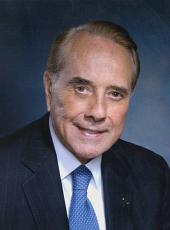 Press Release - Campaign Statement on New Census Bureau Statistics
Dole/Kemp Press Secretary Nelson Warfield released the following statement today:
"These cold economic statistics may please Bill Clinton, but they do nothing to comfort a homemaker trying to buy groceries or a wage career worried about the next paycheck. Economic anxiety is real in America today, and if Bill Clinton doesn't understand that, unemployment anxiety is certainly in his future.
"As expected in an economic recovery, the poverty statistics for 1995 show improvement over 1994, but not everywhere. In Florida the poverty rate increased, and household income declined.
"In spite of the long economic recovery, the statistics released today by the U.S. Bureau of the Census show that median household income is still below the level it reached in 1989. But in fact the news is even more disturbing. Earnings of full-time workers, both men and women, declined. So the improvement in household income is due primarily to more members of a household working.
"Another indication that the economy isn't in as good shape as it should be is the, 3.1 percent decline in orders for durable goods in August, which is evidence that the economy weakened considerably in the third quarter. Furthermore, new claims for unemployment benefits rose for the sixth time in the last eight weeks.
"The fact remains that this recovery has been the weakest in post World War II history. The Clinton administration continues to project anemic economic growth of 2.3 percent a year into the indefinite future; the third quarter may come in below even this limited rate of growth.
"These anemic rates of growth are a consequence of the liberal policy choices of the Clinton administration--too much taxing, too much spending, too much regulation, too much litigation.
"An improvement in economic growth requires that we cut taxes and control spending, reduce regulation, and encourage saving, investment, and education to build a more productive economy for our future. This is what the Dole-Kemp economic program is designed to do."
-- Nelson Warfield
Press Secretary
Robert Dole, Press Release - Campaign Statement on New Census Bureau Statistics Online by Gerhard Peters and John T. Woolley, The American Presidency Project https://www.presidency.ucsb.edu/node/316511