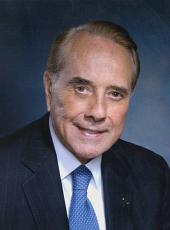 Press Release - Campaign Statement on Clinton as Government Cutter
Dole/Kemp Deputy Press Secretary Christina Martin released the following statement today:
"You'd have to believe in the tooth fairy to believe Bill Clinton has cut big government. Under Bill Clinton, taxes have hit their highest level in history, there are more new regulations than any point since Jimmy Carter was President, and the federal government has actually added 5,100 non-defense employees,
"Clinton's assertion is particularly preposterous considering that the defining initiative of his presidency was the mother of all new government programs -- his failed attempt to nationalize our health care system and create a massive new bureaucracy.
"Most people driving through the Western states enjoy the scenic views. Bill Clinton seems to have spent his time thinking up new things to tax. Just this week, Clinton's own Secretary of the Interior proposed a new 'outdoors' tax on almost all equipment used by campers hikers, sportsmen, and outdoorsmen. On the Clinton 'tax tour,' nobody is safe."
Christina Martin
Deputy Press Secretary
Excluding Defense cuts, federal employment has actually increased by 5,100 under Bill Clinton.
(Source.- Bureau of Labor Statistics, 9/96)
Number of pages published in the Federal Register, the daily government publication in which all proposed regulations are announced; (Source: Federal Register)
Carter: 257,932
Reagan First Term: 212,501
Reagan Second Term: 192,963
Bush: 215,272
Clinton (to date): 220,126
Clinton (projected to end of term). 251,527
In 1995, total government receipts represented a record share of America's total income -- 31.4% -- the highest level in history. (Source: Joint Economic Committee Tax Foundation)
Robert Dole, Press Release - Campaign Statement on Clinton as Government Cutter Online by Gerhard Peters and John T. Woolley, The American Presidency Project https://www.presidency.ucsb.edu/node/316594