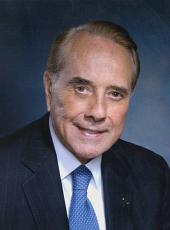 Press Release - Campaign Releases "Liberal Scorecard" to Help Voters See Through Clinton Debate Rhetoric
The Dole/Kemp campaign today released a "Liberal Scorecard" to help viewers of the presidential debates cut through the fog of Bill Clinton's debate rhetoric to see his liberal big government agenda.
The scorecard, released today by top Republican strategists Lyn Nofziger and Mary Matalin, will also be used at more than the 144 public Dole/Kemp debate viewing events being held Sunday evening across the nation.
Nofziger, former Reagan White House assistant for political affairs, called the scorecard a "public service" provided to help Americans watching the presidential debate. "America will undoubtedly need a score keeper to keep up with Bill Clinton's rhetoric," said Nofziger. "Clinton will do all he can to obscure his liberal agenda with foggy promises, waffled positions, and acrobatic denials that he even was president for machine of the last four years."
The scorecard will allow voters to participate in this important campaign event, Matalin, a former top aide to President George Bush, observed. "From your armchair you can count off Bill Clinton's dangled pardons, record all of his 'this time I really mean it' tax cut promises, and measure the depth of his amnesia over his first term's crown jewel: the largest tax increase in history and his government take over of health care."
The scorecards will be used at the more than 144 debate watching events -- from Alaska to Maine -- hosted by Dole/Kemp state offices.
Robert Dole, Press Release - Campaign Releases "Liberal Scorecard" to Help Voters See Through Clinton Debate Rhetoric Online by Gerhard Peters and John T. Woolley, The American Presidency Project https://www.presidency.ucsb.edu/node/316194