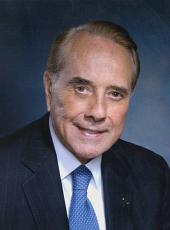 Press Release - Campaign to File FOIA Request For Photos of Drug Smuggler at White House
The Dole-Kemp campaign today announced that it would file a Freedom of Information Act (FOIA) request to force the Clinton Justice Department to release photos of convicted drug smuggler and major Democratic donor Jorge Cabrera at the White House and at a Florida dinner with Vice President Al Gore.
After demanding "all copies and negatives of those photos," the Clinton Justice Department "is now refusing to make those public," according to last night's ABC News.
"Every parent in America should be outraged that Bill Clinton is selling White House access to convicted drug smugglers -- the very people we're trying to protect our children from," said Dole Kemp Campaign Manager Scott Reed. "It's no wonder teen drug use is increasing at a record pace when the President prefers to wine and dine drug dealers instead of prosecuting them. In a Dole administration, drug smugglers like Jorge Cabrera will be behind bars and not in a White House receiving line."
"Worse yet, it now appears that the President is trying to force the Justice Department to cover up his cozy relationship with this known drug smuggler," continued Reed. "There is no conceivable reason that federal prosecutors would need to hide those pictures other film Bill Clinton's fear that the American people will see the depths he would sink to in his quest for dirty money. From Indonesian billionaires to major drug smugglers, it appears this administration will do anything for a buck."
Let's look at a timeline of the illustrious Cabrera career:
1983 Indicted by a federal grand jury on charges of racketeering and drug distribution. Pleaded guilty to conspiracy to bribe a witness in a grand jury investigation. Served 42 months in prison.
1988 Charged with managing a continuing narcotics operation. Pleaded guilty to income tax evasion.
Served one year in prison.
November 1995 Donated $20,000 to the Democratic National Committee.
December 1995 Met Vice President Al Gore at Florida fundraiser
Invited to and attended pre-Christmas event at the White House.
January 1996 Arrested in a Miami drugbust that netted newly 6,000 pounds of cocaine. October 1996 Under pressure, DNC returns $20,000 check from Cabrera to federal treasury.
"In 1993, two years before the Cabreras' marriage, a federal grand jury found probable cause to try Jorge Cabrera on charges of racketeering and drug distribution. He pleaded guilty to conspiracy to bribe a witness in a grand jury investigation. Other charges were dropped. He served 42 months in prison.
In 1988, Jorge Cabrera was charged with managing a continuing narcotics operation. He pleaded guilty to income tax evasion and served one year." (Ft. Lauderdale Sun-Sentinel, 10/13/96)
"Already under fire from Republicans for accepting big contributions linked to foreign interests, the Democratic National Committee has returned a $20,000 political contribution from a convicted Miami cocaine smuggler. ... Federal election records show Cabrera made the contribution to the Democrats in late November 1995, and was soon invited to a political reception attended by Vice President Gore in Miami and a pre-Christmas event at the White House. In January 1996, Cabrera and several accomplices were arrested in a Miami bust that netted nearly 6,000 pounds of cocaine, among other things. Cabrera had previously been arrested twice on drug charges, and pleaded guilty to non-drugrelated charges in both cases." (Associated Press, 10/19/96)
Brian Ross:
"At the very same time twice-convicted Jorge Cabrera was setting up his latest cocaine smuggling deal last December in the Florida keys, Democratic fundraisers were arranging for him to attend a White House dinner with President Clinton. All it took was a $20,000 campaign contribution to the Democratic Party. ... Even Cabrera's own lawyer, Steve Bronis, had a hard time believing $20,000 could get a man like Cabrera into the White House.
Steve Bronis:
"He wore his best outfit and met the First Lady and was invited into the White House."
Brian Ross:
"And this was for $20,000 he had given?"
Steve Bronis:
"Correct. He certainly had the money to donate to give."
Brian Ross:
"As to how Cabrera got inside the White House, the Democratic Party said today it did not know of his criminal record, and he had been referred to them as a prominent member of the Cuban-American Community in Monroe County, Florida. Tom Cash, the former top federal drug agent in Miami, said the only thing prominent about Cabrera is his criminal record,"
Tom Cash:
"That particular name, as soon as I heard Cabrera from Monroe County, that's all you need to know.",..
Brian Ross:
"According to Cabrera's lawyer, there are pictures of @ drug smuggler at the White House and at another dinner here in Florida with Vice President Gore, but federal prosecutors demanded all copies, and the Justice Department is now refusing to make those public.." (ABC News, 10/22/96)
Robert Dole, Press Release - Campaign to File FOIA Request For Photos of Drug Smuggler at White House Online by Gerhard Peters and John T. Woolley, The American Presidency Project https://www.presidency.ucsb.edu/node/315704