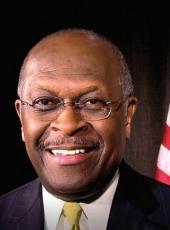 Press Release - Cain Maintains Focus on US Economy, Defines Broad National Security Policy Platform in Debate
Republican presidential frontrunner Herman Cain authoritatively tackled a variety of foreign policy issues while stressing the nation's primary challenge of economic instability at Tuesday night's debate at DAR Constitution Hall in Washington D.C. Cain stressed the need to focus efforts on strengthening the economy as a component of national security: "This whole discussion tonight about cutting and compromise—we didn't spend enough time talking about the other part of the problem—growing this economy. This administration has failed dismally…we can cut till the cows come home but it will not solve the problem until we have effective economic growth."
Discussing Iran's growing quest for nuclear weapons, Cain explained that the situation with Iran is also shaped by prevailing forces in the region. Cain said, "…If we pull out of Afghanistan too soon, Iran is going to help fill that power vacuum in Afghanistan. And so it is in our best interest in the USA to prevent them from being able to (do that)."
Cain drew from his own wealth of experience in addressing a question about the greatest threat to national security that no one is talking about today: "Having been a ballistics analyst and a computer scientist earlier in my career," Cain said, "Cyber attacks. That's something that we do not talk enough about and I happen to believe that is a national security area that we do need to be concerned about."
Cain explained how Mexico's instability is a national security threat: "An insecure border is a national security threat for the following reasons. Number one, we know that terrorists have come into this country by way of Mexico. Secondly, 40 percent of the people in Mexico according to a survey already believe that their country is a failed state. Thirdly, the number of people killed in Mexico last year equals the number of people killed in Afghanistan and Iraq combined.
So yes, let's solve the whole problem. Number one, secure the border for real. Number two, enforce the laws that are already there - we don't need new laws. Number three promote the current path to citizenship. Clean up the bureaucracy in Washington D.C. so people can come through the front door instead of sneaking in the side door. And number four, to deal with the illegals that are already here, empower the states to do what the federal government is not capable of doing."
Regarding US foreign assistance Cain stressed his common-sense platform of examining which problems are effective: "It depends upon priorities…Just like every program we have domestically, (we must ask) what have the results been, and then we make a decision about how we prioritize."
Among the other topics Cain addressed during the expansive debate were refining and strengthening the Patriot Act and improving airport screenings for terrorism, in which Cain advocated targeted identification and privatization of services.
For More Information:

J.D. Gordon, Vice President of Campaign Communications

Friends of Herman Cain, Inc.
Herman Cain, Press Release - Cain Maintains Focus on US Economy, Defines Broad National Security Policy Platform in Debate Online by Gerhard Peters and John T. Woolley, The American Presidency Project https://www.presidency.ucsb.edu/node/298684