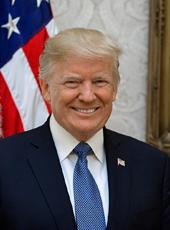 Press Release - Cabinet Secretaries Testify on the President's Proposal for Rebuilding Infrastructure in America
Five Cabinet Secretaries testified before the Senate Committee on Commerce, Science, and Transportation regarding the President's proposal for Rebuilding Infrastructure in America.
Secretary of Agriculture Sonny Perdue: "The President's proposal for Rebuilding Infrastructure in America prioritizes responsible and sustainable investment in all our Nation's infrastructure and forges a path toward prosperity with a growth-oriented package of funds and infrastructure reforms. He envisions a 'lighter Federal touch' in funding and permitting for infrastructure, because he entrusts States and communities—not Washington—to make decisions to meet their unique rural needs."
Secretary of Commerce Wilbur Ross: "As President Trump has long made clear, our Nation's infrastructure is crumbling, and we desperately need new and upgraded roads, bridges, highways, railways, and waterways across the country. If the United States is to continue creating jobs, developing a 21st century work force, and growing a strong economy, we must build new infrastructure with 'American heart, American hands, and American grit.' First and foremost, the President's legislative principles for rebuilding infrastructure, delivered to Congress on February 11, 2018, will involve continued elimination of regulatory barriers, streamlined permitting processes, and establishment of a 'one agency one decision' concept for infrastructure permit applications."
Secretary of Labor Alexander Acosta: "The President's bold plan to strengthen our Nation's infrastructure—including modernizing roads, bridges, tunnels, and airports—presents an important opportunity for Americans to build their career while building a stronger foundation for our Nation. This is a great time to be a job seeker in America. If Congress passes the President's plan, jobs will be created in communities across our Nation— from Key West, Florida, to Barrow, Alaska. What is so transformative about the President's plan is it will help strengthen the economy and create jobs in sectors beyond construction, such as hospitality, food service, and retail as infrastructure projects break ground."
Secretary of Transportation Elaine Chao: "Our Nation's infrastructure is the backbone of our world-class economy—the most productive, flexible, and dynamic in the world. It is a key factor in productivity and economic growth. But as you know, too much of our country's infrastructure is aging and in need of repair. The challenges are everywhere.... Transportation is just one component, which is why I am joined here today by 4 fellow Cabinet Secretaries. The initiative includes, but is not limited to, drinking and wastewater, energy, broadband and veterans' hospitals as well. The goal of the President's proposal is to stimulate at least $1.5 trillion in infrastructure investment, and includes a minimum of $200 billion in direct Federal funding."
Secretary of Energy Rick Perry: "The President's plan will help ensure that energy is delivered more reliably, affordably, and more efficiently than ever. As we innovate further and create cleaner energy – we will need the infrastructure to move it in order to benefit the environment as well. In other words, adoption of this plan will help ensure that the benefits of our energy strategy will be felt well into the future. Beyond energy, streamlining permitting and modernizing our infrastructure will combine to revive our Nation at a time when it is sorely needed."
See the 1-minutes highlight reel from yesterday's hearing on Capitol Hill.
Donald J. Trump, Press Release - Cabinet Secretaries Testify on the President's Proposal for Rebuilding Infrastructure in America Online by Gerhard Peters and John T. Woolley, The American Presidency Project https://www.presidency.ucsb.edu/node/336122