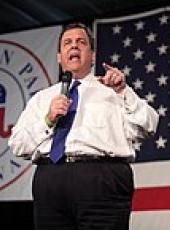 Press Release - Burke, Fesh, Potucek and St. James Lead 20 New Endorsements for Chris Christie for President
Former McCain NH Small Business Chair and Rockingham Elected Officials Join Growing Team that Now Includes All Three Rockingham County Commissioners
For Immediate Release:
Thursday, December 3, 2015
MORRISTOWN, NJ - Continuing a week of growing momentum and key endorsements, Governor Chris Christie received support from twenty additional elected officials, veterans, Republican activists and community leaders in the Granite State.
Jim Burke, the former chair of New Hampshire Small Business Leaders for John McCain and a leader in the famed McCain 2008 "comeback team" commented, "Governor Christie is honoring the New Hampshire Primary tradition embodied by Senator McCain in 2000 and 2008 of crisscrossing our state to hold public town hall meetings where he takes dozens of unfiltered questions directly from the voters. I am honored to join his effort in New Hampshire to help spread his message of support for small businesses, who are the backbone of our economy."
Rockingham County Commissioner Kevin St. James added, "Our country needs a strong, serious and tested leader with Governor Christie's experience in these critical times. As a U.S. attorney who prosecuted terrorism cases in the aftermath of September 11th and a governor who led his state through Hurricane Sandy, the second-worst natural disaster in American history, Chris Christie has the experience making tough decisions and leading through crisis that we need in a president."
With the endorsement of St. James, the entire Rockingham County Commission Board has endorsed Governor Christie, who received the endorsement of Board Chair Thomas Tombarello (R-Sandown) and Commissioner Kevin Coyle (R-Derry) in July.
Christie was also endorsed by State Representative Bob Fesh (R-Derry), who is serving his 14th term in the House, and State Representative John Potucek (R-Derry), a U.S. Air Force veteran and retired teacher.
The following is the full list of New Hampshire leaders announcing their public support for Gov. Chris Christie's campaign today:
State Representative Bob Fesh (Derry)
State Representative and US Air Force Veteran John Potucek (Derry)
Rockingham County Commissioner Kevin St. James (Kingston)
Former Small Businesses for McCain Chairman Jim Burke (Amherst)
Former State Representative and US Army Veteran Joe Krasucki (Nashua)
Former State Representative & Former NH Liquor Commission Chairman Tony Maiola (Newport)
GOP Activist & former Selectwoman Betty Maiola (Newport)
GOP Activist and Former McCain Town Chair Richard Maloon (Merrimack)
US Air Force Veteran Larry Pelland (Hudson)
GOP Activist Joan Morse (Intervale)
GOP Activist Barbara Campbell (Glen)
GOP Activist Jack Dunn (Concord)
GOP Activist Marie Curry (Concord)
GOP Activist James Gerry (Bedford)
GOP Activist David Nasser (Nottingham)
Community Leader Jim Nasser (Nottingham)
Community Leader Phil George (Manchester)
Community Leader Barbara George (Bedford)
Community Leaders Joe & Lori Myers (Bow)
Chris Christie, Press Release - Burke, Fesh, Potucek and St. James Lead 20 New Endorsements for Chris Christie for President Online by Gerhard Peters and John T. Woolley, The American Presidency Project https://www.presidency.ucsb.edu/node/312770