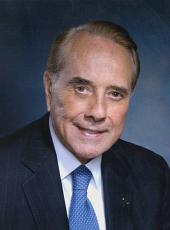 Press Release - Boston Globe Endorses Dole
GOP Presidential candidate Bob Dole today won the endorsement of New England's largest newspaper, The Boston Globe. The Globe becomes the eighth newspaper in the New England region to endorse the GOP front-runner.
The endorsement states "One of the qualities that has been used by other candidates against Dole - his record as a Washington politician - is in our view of the strongest claim any of the Republican candidates has made so far. As GOP leader in the Senate for a dozen years, Dole has demonstrated a singular ability to negotiate and compromise, to bring diverse interests together, to find common ground so something can be accomplished.
"This quality is badly needed in the capital: without it, voters can expect Washington to accomplish even less and their own cynicism to grow even deeper. It is a quality badly needed in America, where the things that divide us are threatening to overwhelm the things that unite us.
"When Dole says 'I am not a polarizer,' the contrast is greatest with Patrick Buchanan, the acerbic commentator who has already embarrassed the Republican Party once as a convention speaker and would be disastrous as its nominee. His flirtations with extremism are too numerous to excuse. Buchanan's MO is to pick out people's frustrations and bring them to a boil. Like other putative populist demagogues, Buchanan has a much greater knack for seeing problems than solving them...
"This leaves Dole, an accomplished insider who is trusted in the Senate and who has shown flashes of leadership recently - on NAFTA and GATT, on sending peace-keeping troops to Bosnia and on halting the second government shutdown...In addition, Dole has refused to join the stampede toward a flat tax, saying properly that tax simplification should not be obtained by shifting the burden from the wealthy to the middle class..."
"Dole's skills are unquestioned ... and he adds to them demonstrated judgment and a sense of humanity that inspired confidence. Fresh in his mind, he says, is the memory of the time when, as a county attorney in Kansas, he had to remove children from troubled homes and signed welfare checks for his own grandparents.
"A vote for Dole is a vote for stability, for maturity, for a proven capacity to act. In this field, we believe it is an easy choice." (Editorial, The Boston Globe, February 18, 1996)
Robert Dole, Press Release - Boston Globe Endorses Dole Online by Gerhard Peters and John T. Woolley, The American Presidency Project https://www.presidency.ucsb.edu/node/315455