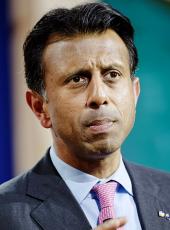 Press Release - Bobby's Top Five Op-Eds on Education
An education system for the 21st century
February 25, 2015
"We need to create a modern educational system for the modern challenges future generations will face — a competitive, interconnected global economy, where students from Charleston and Baton Rouge will compete with those from Chengdu and Bombay. Creating that system involves reforms large and small — but three guiding principles."
School choice week is freedom week
January 29, 2015
"On the most basic level, school choice represents the freedom to choose — empowering parents to select the best educational options for their sons and daughters. That could be a charter school, a private school, a religious school, home schooling, or even online learning. Governments should provide parents with the personalized and individualized tools they need to help their children excel academically."
Why I fight for local control of education
July 23, 2014
"... there is one issue we have tackled that stands out to me above all others — education reform — specifically, our efforts to put a great teacher in every classroom and to fight for equal opportunity in education for Louisiana children. We have made great strides on this front, but there is still much room for improvement. Our kids only grow up once, and we only have one shot at providing a child with access to a great teacher and a quality education."
What's Obama's Problem With School Choice?
July 8, 2014
"Why would the federal Department of Justice cite the Civil Rights Act and the specter of segregation to try and block a school choice program where more than nine in 10 participants come from racial minority groups? Or use the Americans with Disabilities Act to claim another school voucher program discriminates against individuals with disabilities, without so much as a single complaint from a student or parent to prove their case?"
Obama should drop suit opposing school choice
September 4, 2013
"The Justice Department has challenged my state in court for having the temerity to start a scholarship program that frees low-income minority children from failing schools. In other words, Obama and Attorney General Eric Holder would rip children out of their schools and handcuff them to the failing schools they previously attended. And, in the ultimate irony, they are using desegregation orders set up to prevent discrimination against minority children to try to do it."
Bobby Jindal, Press Release - Bobby's Top Five Op-Eds on Education Online by Gerhard Peters and John T. Woolley, The American Presidency Project https://www.presidency.ucsb.edu/node/311886