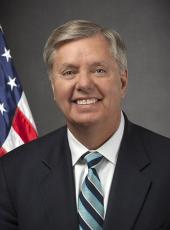 Press Release - Bloomberg: Lindsey Graham: 'Somebody Needs to Take the Shovel Out of Donald Trump's Hands'
Lindsey Graham: 'Somebody Needs to Take the Shovel Out of Donald Trump's Hands'

By Ben Brody

July 8, 2015
...
"The first rule of politics when you're in a hole is stop digging," Graham, a South Carolina senator, said at an Atlantic Council event in Washington. "I think somebody needs to take the shovel out of Donald Trump's hands."
...
"I don't need a lecture from Donald Trump on border security," Graham said. "Stop yelling about it and get Democrats and Republicans to work together."
"Why would any group listen to your economic plan if you're going to deport their grandmother?" he said.
Graham also knocked Democratic front-runner Hillary Clinton, who told CNN Tuesday that Republicans "range across a spectrum of being either grudgingly welcome or hostile towards immigrants" and chided the party for not going farther to denounce Trump.
Clinton, who served as secretary of state from 2009 to 2013 after eight years in the Senate, laid out a sweeping immigration platform in May including a "full and equal" path to citizenship for undocumented immigrants.
"Hillary Clinton never lifted a finger," said Graham of her time as the nation's top diplomat. "I been in every gang you can be in in the Senate. If we had tattoos, I'd have an armful. I don't remember seeing her once."
Lindsey Graham, Press Release - Bloomberg: Lindsey Graham: 'Somebody Needs to Take the Shovel Out of Donald Trump's Hands' Online by Gerhard Peters and John T. Woolley, The American Presidency Project https://www.presidency.ucsb.edu/node/312468