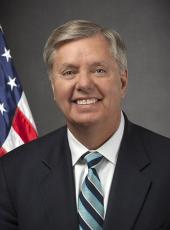 Press Release - Bloomberg: Graham: Iran Deal 'Akin to Declaring War' on Israel
Graham: Iran Deal 'Akin to Declaring War' on Israel

By Josh Rogin

July 14, 2015
The newly announced deal between Iran and six world powers is "akin to declaring war on Israel and the Sunni Arabs," and will be a huge problem for Hillary Clinton, according to GOP presidential candidate and Senator Lindsey Graham, who promised to not uphold the deal if he is elected next year.
"My initial impression is that this deal is far worse than I ever dreamed it could be and will be a nightmare for the region, our national security and eventually the world at large," Graham told me in an interview early Tuesday morning, just after Iran, China, France, Russia, Britain, the U.S. and Germany confirmed they had reached terms for a historic deal to limit Iran's nuclear program in exchange for sanctions relief.
Graham reacted harshly to many of the details about the deal that were emerging early Tuesday, including the news that the conventional arms embargo on Iran will be largely lifted and replaced by a limitation of Iranian arms imports and exports for five years. Reports also stated early Tuesday that limitations on Iran's uranium enrichment program will begin to ease after eight years.
"If the initial reports regarding the details of this deal hold true, there's no way as president of the United States I would honor this deal," Graham said. "It's incredibly dangerous for our national security, and it's akin to declaring war on Sunni Arabs and Israel by the P5+1 because it ensures their primary antagonist Iran will become a nuclear power and allows them to rearm conventionally."
Israeli Prime Minister Benjamin Netanyahu tweeted Tuesday that the deal was "a historic mistake." Hillary Clinton has not yet reacted publicly; in the past she has expressed cautious optimism about the deal and said she was waiting to see the details.
"Hillary Clinton's reaction to this deal is the first real test of her ability to be president and her judgment," said Graham. "If she believes it's a good idea to lift the arms embargo without first seeing a behavior change by the Iranians, then her judgment as commander in chief will be very much in question."
He said President Obama put Democrats in an impossible situation: "He's pitted Hillary Clinton and the Democratic party against common sense and the security of the American people."
...
In addition to the lifting of the embargo, Graham said lawmakers in both parties will be put off by the fact that the restrictions on Iranian enrichment expire over time. "There is no chance that this deal will be approved by Congress," he said, predicting rejection by "an overwhelming super majority in both the House and the Senate."
Graham also predicted that the deal would lead to an arms race in the Middle East and expanded hostilities between Shiite and Sunni Arabs all over the region. "If I had property in the Middle East, I would think about selling it after this deal."
Lindsey Graham, Press Release - Bloomberg: Graham: Iran Deal 'Akin to Declaring War' on Israel Online by Gerhard Peters and John T. Woolley, The American Presidency Project https://www.presidency.ucsb.edu/node/312564