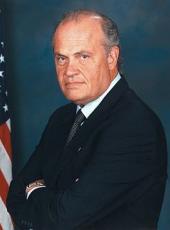 Press Release - Bill Lacy Named Committee Manager
Former GOP, Presidential Campaign Strategist Joins Effort
Washington, D.C. - Former Reagan White House political aide Bill Lacy today was named manager of Fred Thompson's testing the waters committee.
"Bill Lacy worked in the campaigns of President Reagan, President Bush and Senate Majority Leader Bob Dole from 1980-1996," Thompson said. "He turned around my campaign for Senate in 1994 and, as I move toward a decision on whether to run for President, I am confident he will take our operations to the next level."
Lacy will have full operational control of the Friends of Fred Thompson committee and will report directly to Thompson.
"It is an honor to be working with Fred again," said Lacy, who is taking a leave of absence as Director of the Robert J. Dole Institute of Politics at the University of Kansas. "My immediate goal is to provide stable, hands-on leadership and to retool the Thompson operation to implement a non-traditional, message-driven effort."
Lacy was a GOP campaign professional in Washington from 1977-1996. He ran Ronald Reagan's 1980 Maryland primary campaign, and served as Deputy Director of the National Republican Congressional Committee in 1981-82 before joining the White House staff as Deputy Director of Political Affairs. During Reagan's reelection campaign in 1984 he was Political Director of the Republican National Committee and afterwards rejoined the White House as Director of the Office of Political Affairs.
Lacy held a senior role in Sen. Bob Dole's 1988 campaign and served as Deputy National Chairman and strategist in Dole's 1996 primary campaign. Lacy served as Thompson's strategist and management consultant in his 1994 campaign until Thompson, down 20 points in the polls and written off by most of the pundits, persuaded Lacy to move to Nashville and take over day-to-day management of the campaign.
In 1996 Lacy assumed a senior management role in a privately held family business and in September 2004 was selected to be the Director of the Dole Institute of Politics.
"Every day at the Dole Institute I told students and others how important it is to get involved in politics, to take a greater interest in the affairs of our country," Lacy said. "This is a tremendous opportunity to serve, an obligation in my view; I am honored that Fred Thompson has given me this chance."

Fred Thompson, Press Release - Bill Lacy Named Committee Manager Online by Gerhard Peters and John T. Woolley, The American Presidency Project https://www.presidency.ucsb.edu/node/295423