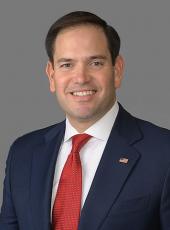 Press Release - A Big Group of Iowa Pastors Just Endorsed Marco Rubio
January 30, 2016
This morning, a new group of Iowa pastors endorsed Marco, adding to his momentum just two days before the state caucuses.
Philip Herman, Pastor at Fellowship Community Church in Norwalk says it was hearing Marco's personal testimony that pushed him over the edge:
I am enthusiastically supporting Marco Rubio because I have personally heard him share how his belief in God impacts the things he believes in and stands for. Our country doesn't need another leader who simply wants to be President for his own personal power and ego, we need a leader like Marco Rubio who uses his gifts and abilities in full submission to an Almighty God.
Cory Van Sloten, Pastor of Lebanon Christian Reformed Church in Sioux Center, added:
As a Christian, a Pastor, and a Veteran, I believe Senator Rubio is best qualified to lead our nation for such a time as this.
Eric Teetsel, Marco's Director of Faith Outreach, touted the announcement:

Marco is honored that Christian leaders throughout the state representing a diverse array of theological traditions believe he is the best choice for president.
Marco understands religious liberty to be a cornerstone of our society and our country's founding, marriage as the union of one man and one woman, and the inherent dignity of every human life from the moment of conception, and pastors from across Iowa will be supporting and helping Marco at Monday's caucuses.
Here's the full list that was rolled out today:
Tim Breen, First Reformed Church, Orange City
Roger Carlisle, Peace Lutheran Church, Wall Lake
Brent Clark, Ashworth Road Baptist Church, West Des Moines
Walt Clausen , Newburg-Chester Church, Newburg
Jonathan Conner, Zion Lutheran Church, Manning
Simeon Counterman, Calvary Baptist Church, Burlington
Rex Deckard, Calvary Apostolic Church, Des Moines
Joe Earle, First Family Church, Ankeny
Phillip  Herman, Fellowship Community Church, Norwalk
Peter Hoft, Park View Lutheran Church, Eldridge
Joseph Huss, Northside Baptist Church, Davenport
Ken Kimball, Paint Creek Lutheran Church, Waterville
Kenney Linhart, KLM International Ministries, Des Moines
Gary Mulder, Trinity Reformed Church, Allison
Rex Rains, New Life Church, Dubuque
Van Rathbun, Central Reformed Church, Sioux Center
David Renfro, Trinity Church, Cedar Rapids
Don Ridder, Grace Fellowship Church, Pella
Dean Rothchild, Lutheran Church Missouri Synod
Cory Stout, Community Heights Church, Newton
Aaron Telecky, Maranatha Bible Church, Cedar Rapids
Cory Van Sloten, Lebanon Christian Reformed Church, Sioux Center
Robert Waters, pastor (retired), Des Moines
*Individual endorsements; church name listed for identification purposes only
Marco Rubio, Press Release - A Big Group of Iowa Pastors Just Endorsed Marco Rubio Online by Gerhard Peters and John T. Woolley, The American Presidency Project https://www.presidency.ucsb.edu/node/313220